Welcome to our Google Ads tutorial. We will guide you through everything you need to know about Google Ads with our videos and our articles. We start by answering some common questions, then you can follow our Google Ads search campaign tutorial and then our Google Display Ads tutorial. You will find even more videos and articles so you can learn everything from conversion tracking to keyword targeting to attribution models.
Google Ads Video Tutorial
---
Browse the Google Ads Tutorial:
About Google Ads
Beginning of Google Ads Tutorial
Creating Your Google Ads Account
Setting Up Google Ads Conversion Tracking
Conversion Settings in Google Ads
Google Ads Attribution Models
Create Google Ads Ad Extensions
Create Ad Groups
Target Keywords in Ad Groups
Create 2-3 Search Ads Per Ad Group
Launch Google Ads Campaign
Learn Google Ads:
Learn Google Ads
Optimize Your Google Ads CPC
Negative Keywords
Attribution Models
Paid advertising is important for every business owner. Google offers an advertising platform to business owners called Google Ads, which can be really beneficial for the growth of your business. The Google Ads platform was formerly known as Google AdWords. It allows advertisers to run search ads, display ads, product listing ads, mobile app ads, and video ads. Advertisers can target certain keywords on the Google Search Network, and their ads will show up in the Google Search results.
What is Google Ads?
Google Ads is an advertising platform, which is made up of the Google search engine, search partners, the Google Display Network, audiences, websites, videos, YouTube channels, mobile apps, and more. Advertisers can utilize Google Ads to drive targeted traffic to their website, which can help increase conversions such as leads and sales.
How Does Google Ads Work?
First of all, you have to set up a Google Ads campaign. The next thing you should do is choose the most relevant keywords for your business. There are helpful free keyword research tools like the Google Keyword Planner. In addition, you should think carefully about words and phrases that your potential customers will use when they start searching for your products and/or services.
The main purpose of Google Ads is to match your keywords with the ads and landing pages that you create. Then, your ad may show up while somebody is searching for your targeted words and terms. On the Display Network, your ads can appear based on your targeted audiences or websites that are related to your business.
---
How do Google Search Ads Work?
When it comes to search network campaigns, Advertisers target and bid on keywords that they want to match to potential customer's search terms. Advertisers can create ads and landing pages that match closely to their targeted keywords. Advertisers are charged when people click on their advertisements. Advertisers are not charged unless someone actually clicks on their ad. This is one major method that Google uses to earn revenue because the advertisers must pay for these clicks.
Before you start creating Google Search Ads Campaigns, you have to make sure you understand the basics – the bidding process, how Quality Score works, how to set-up Campaigns and Ad Groups, how to create ads, landing pages, and how cost-per-click works.
How Does the Google Ads Auction Work?
How does Google Ads determine which ads will show up when someone starts a search on Google? There is an ad auction that determines in what order the ads will appear. There are two major factors that influence the Google Ads auction: Your bids and quality scores. Google looks at your the bids and quality scores of every advertiser entering the ad auction to determine Ad Rank.
What is Google Ads Ad Rank?
Ad Rank is determined by an advertisers bid and their quality score at auction time. The ad auction occurs every time someone searches in Google. Google is able to look at the quality of each advertisers ads and their bids instantaneously for every search term that triggers advertisements.
1. Bids
You have to set your bids and tell Google the maximum amount of money you agree to pay for a click on your ad. Google Ads has developed smart bidding strategies like Enhanced CPC, Target Return on Ad Spend (Target ROAS), and Target Cost-Per-Action (Target CPA), which allows advertisers to set automated bids that are focused on conversions and conversion value.
2. Quality Scores
Another thing that has an impact on the auction is the quality of your ads. This quality is summarized in your Quality Score. Quality Score is made up of your Ad Relevance, Expected Click-Through Rate, and Landing Page Experience. Essentially, Google Ads looks at the overall quality and relevancy of ads and landing pages based on a user's search query.
---
How Do Google Display Ads Work?
Advertisers can use audience targeting or content targeting to reach people as they browse specific websites, watch YouTube videos, or use mobile apps. The Google Display Network allows advertisers to target relevant audiences as they browse the internet. Your display ads can drive traffic back to relevant landing pages on your website that sell your products and services.
Where do Google Ads Show?
There is a major difference between paid ads and organic search results. Google Ads appear on the top or the bottom of the Google search results. The ads are ranked according to the Ad Rank factors above.
What is the Google Search Network?
The Google Search Network is where your search ads will appear. It is made up primarily of the Google Search Engine and a large group of websites with search engines that will display Google search ads. When you start advertising on this network, your ads will show up next to search results on Google and Google search partners.
The Google Search Network is effective because it succeeds in targeting an active searcher. The network is able to connect advertisers and people who are actively looking for products and services. On average, the Google Search Network drives more conversions and a higher conversion rate than the Google Display Network.
How Much Does Google Ads Cost?
Costs are calculated based on your targeting and overall competition. An advertisers keyword bids, budget, competition, audience targeting, and keyword quality scores are all major cost factors. If you are targeting expensive and competitive keywords, they can cost upwards of $10-$20 per click. Those are highly competitive words in industries such as law, insurance, banking, and marketing, which have high lifetime values. However, most advertisers will spend anywhere from $0.50-$3.00 per click depending on their industry and targeting.
Advertisers have complete control over their budgets and they can optimize their campaigns over time to lower costs.
---
How to Use Google Ads Successfully
If you want to succeed in using this advertising platform, you have to use keyword research tools such as the Google Keyword Planner to find relevant and popular keywords for your business. From there, you need to test and optimize your Campaign, Ad Groups, Keywords, Audiences, Ads, and Landing Pages. Google Ads is considered immensely effective for all kinds of businesses, but it requires testing and optimization.
Should You Use Google Ads?
I believe that paid online advertising is essential for the growth of any business. Even if your budget is not that high, you should definitely try using Google Ads and increase your chances of getting more customers. Any business that sells a product or a service should at the very least test Google Ads because you can reach customers who are actively seeking your business. Lastly, you can see whether or not Google Ads is driving you a positive Return On Ad Spend (ROAS) with conversion tracking.
---
Learn everything from account set-up to publishing your campaign. Our Google AdWords tutorial is geared towards beginners who are creating their first campaign or still learning all the different features.
 

---
Step-By-Step Google Ads Tutorial
Google Ads is a very difficult PPC Advertising channel to learn and understand. The step-by-step process below will help you get started as you create your first search campaign. One thing to keep in mind is that Google Display Advertising campaigns and YouTube Advertising campaigns are slightly different, but they are managed through the same interface.
You want to start by creating your Google Ads Account.
 

 
You can use an existing Google account to sign-up for your account. You will manage all of your advertisements in your account.
---
Step 2 – Use The Full Version of Google Ads
Avoid using Google Ads Express by clicking on the URL that says 'Experienced with Google Ads?'

 
At the time of making this video and tutorial, Google will automatically opt you in to Google Ads Express. You want to use the full version that Google offers. Another way to double-check this is by ensuring that the word 'Express' does not appear in the URL at the top.
---
Step 3 – Create An Account Without a Campaign
Click on the link that says 'Create an account without a campaign' to get started in your account.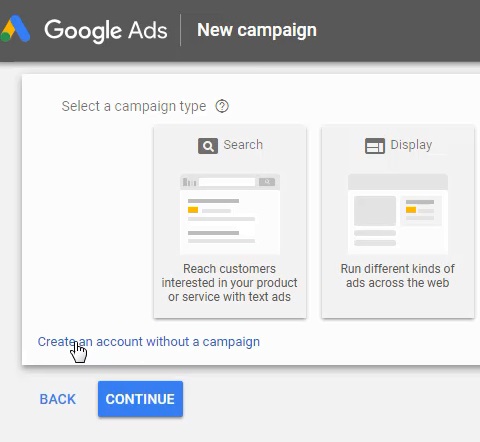 You can create your first search campaign during this step, but I prefer to set-up conversion tracking first. That way, you can optimize your campaign for the conversions you import for your business.
---
Step 4 – Confirm Business Information and Explore Your Account
Confirm your billing country, timezone, and currency. Then, click 'Explore Your Account' to reach the main Google Ads screen.

 
You may have to confirm a few settings before you launch your account. After this step, you will be almost ready to get started with your first campaign. Ultimately, you need to create your account and ensure you are using the full version of Google Ads to get access to all the features.
---
Step 5 – View Google Ads Account Overview
Your account overview and campaign overview screen should look like the screen below.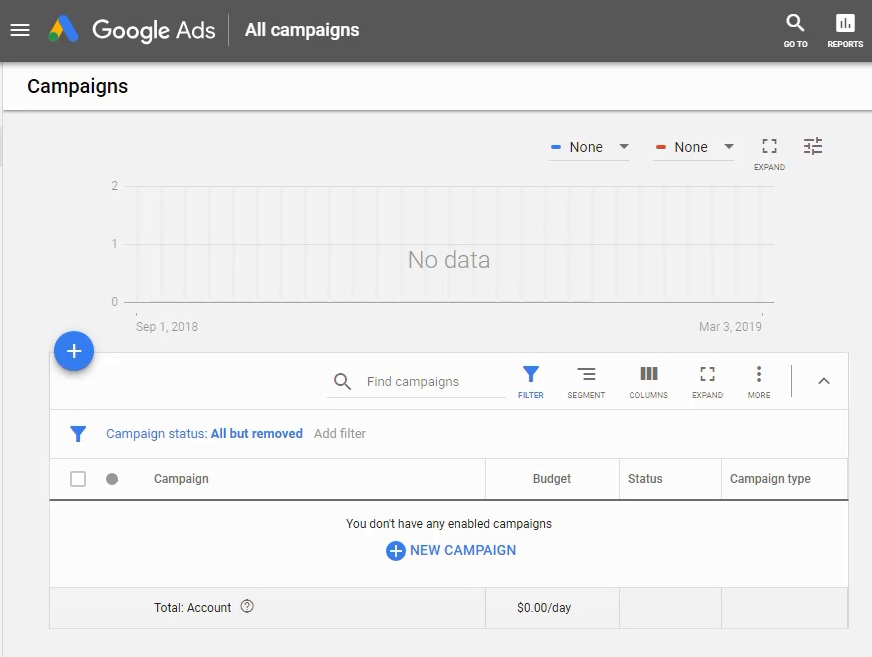 Next, I will show you how to set-up conversion tracking and your first campaign. If you are using Google Ads for the first time, there is a lot to learn about using the interface. The more you work in your account, the easier it will become.
---
Create a Google Analytics account and Link your AdWords and Analytics accounts together. We'll start in Google Analytics and then confirm the link in our Ads account.

 
Configure the linking and confirm it through your Google Analytics account.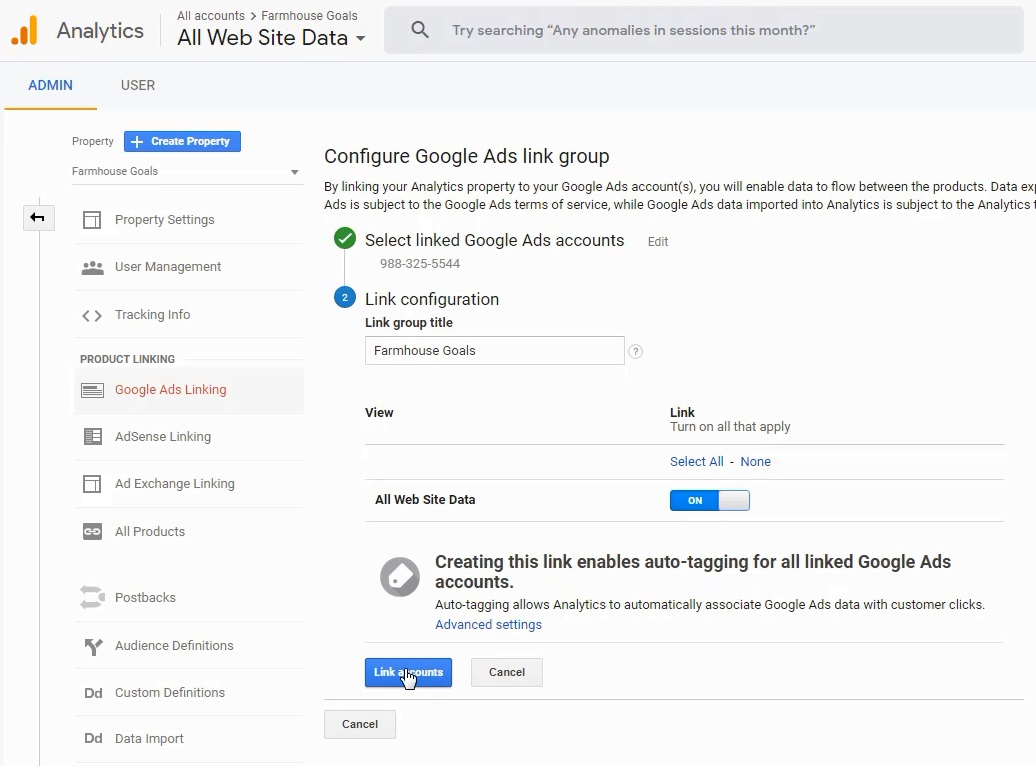 When you sign-in to your Google Analytics account, you want to go to the Admin screen and click on the 'Google Ads Linking' URL. You can go through that URL to make sure you have connected your 2 accounts. Next, you will confirm the link through the Tools menu in your Google Ads account.
 


 
Confirm the link by going to the Tools menu, clicking on Linked Accounts, clicking on Google Analytics, and making sure the link is completely set-up and Auto-Tagging is enabled.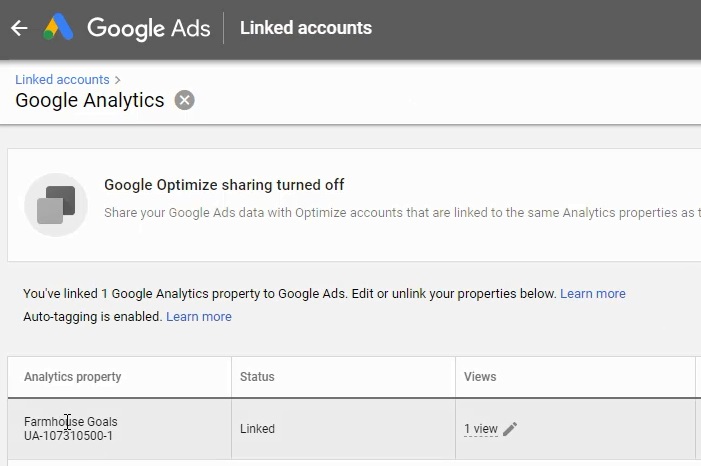 Step 6 is much easier when you are using the same Google account for your Analytics and Ads accounts. Essentially, you need to the accounts to be able to communicate so you can set-up conversion tracking and track your campaigns. You should see 'Linked' under status on that page and Auto-Tagging should be enabled as well.
---
Step 7 – Set-Up Google Ads Conversion Tracking
Create Goals in Google Analytics or Enable Ecommerce reporting in Google Analytics. Then, import conversions into your Google Ads account.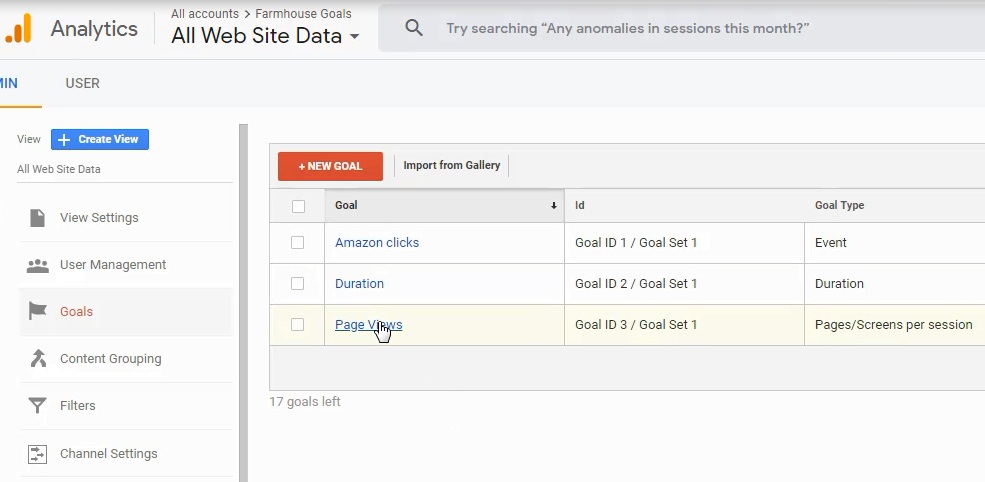 Now that you have created Google Analytics Goals, you want to go back to Google Ads, click on the Tools menu, and click on the 'Conversions' link from the dropdown menu.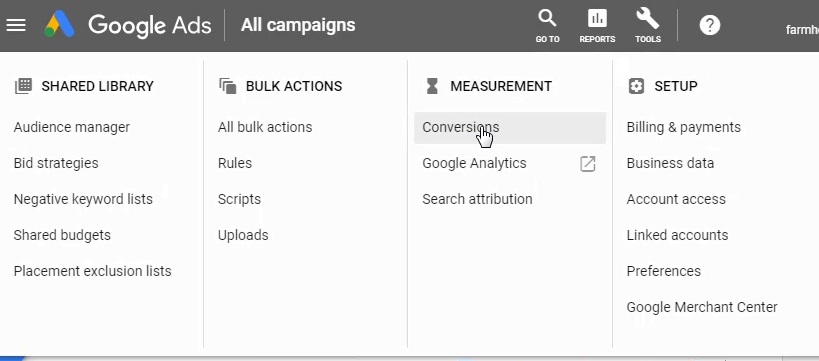 Next, you want to import a new conversion action. You will click on the plus-sign from the main Conversions screen in Google Ads to add the key conversions you want to optimize your campaigns for. Generally, that would include driving leads, sales, or both.
 


 
Choose to Import conversions from Google Analytics.
 


 
Choose the conversions you want to import. The Goals you have created can be imported now. You can import a Smart Goal, a Transaction, or you can import Lead actions.
 


 
You can watch the conversion tracking video below to learn more about importing conversions into your Google Ads account. There are different ways to track conversions and the video will give you more insight.
 

---
Update conversion action settings to categorize a conversion, set a value for a conversion, and decide whether you want to include the conversion in your conversions column for your campaign.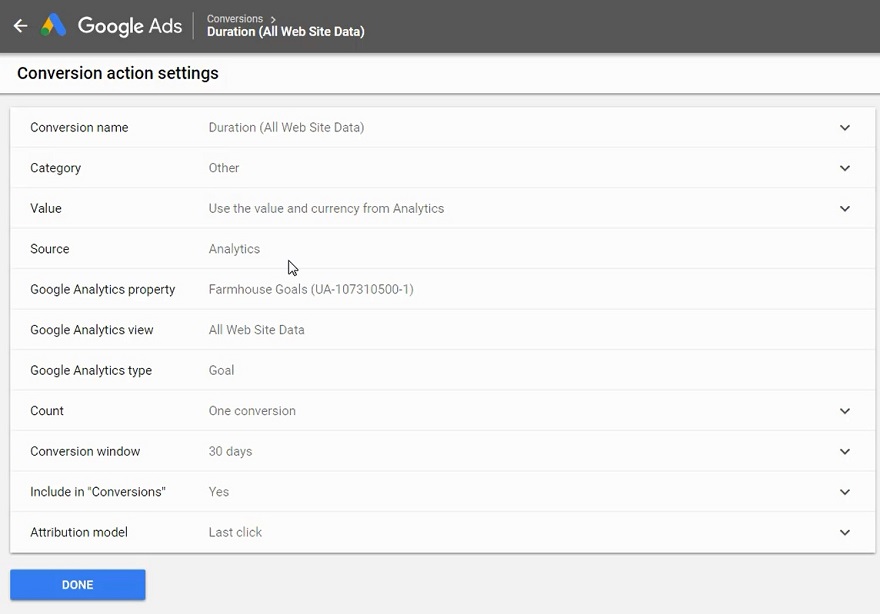 You can set a conversion value or use the conversion from Google Analytics. That will allow you to track your Return On Ad Spend directly in your Google Ads account. For example, if you sell a product for $50, you can set that value for each conversion.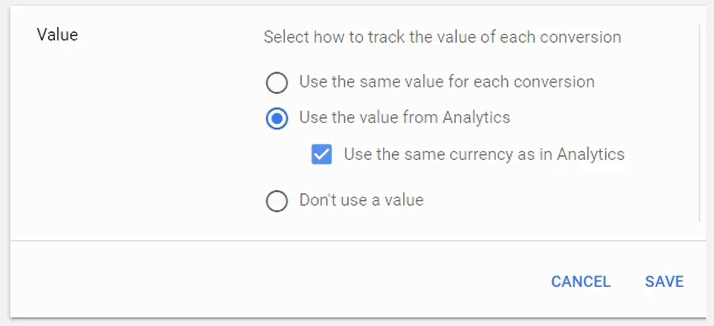 Next, you want to make sure that you include the conversion in your conversions column. There are some cases where you want to import a conversion and you don't want to include it.
 

---
Choose an attribution model for your conversion. Since people may have multiple interactions with your business before reaching a conversion, you want to pick the best attribution model for your business.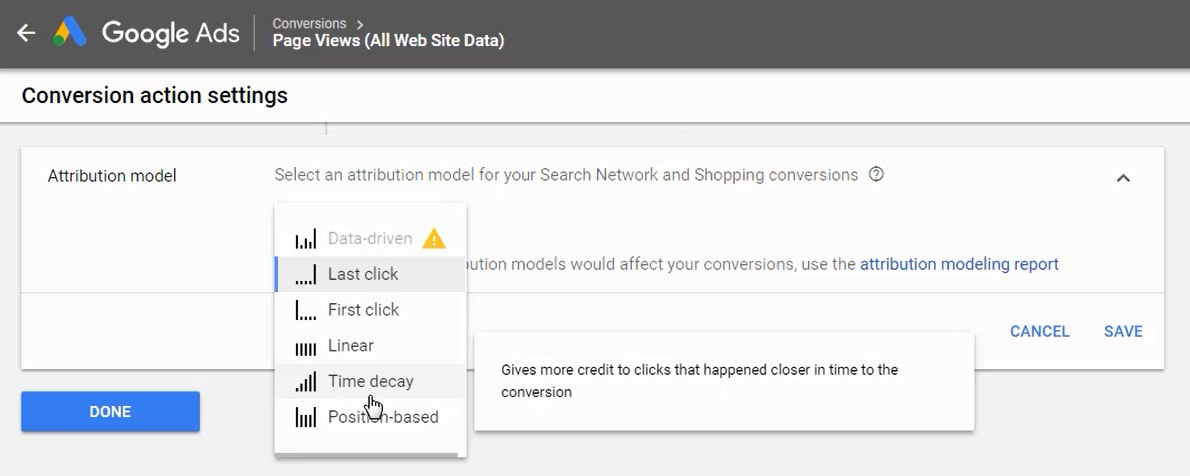 There are 6 different attribution models at this time. The 6 models are data-driven, last click, first click, linear, time decay, and position based. You can watch the video below for more information about the different models you can choose for your search network and shopping conversions.
 

---
You can click on the plus-sign (+) to create a campaign in Google Ads. Then you will be able to choose your campaign type and your objective.

 
Once you create your campaign, you need to select your campaign type, and for this example I will be creating a search campaign. You can also choose Display, Video, App, and Shopping campaigns at this point as well.
 

---
Choose the network you will be targeting. For search campaigns, you should only target the Search Network and Search Partners. For Display campaigns, choose the Google Display Network. In addition, set your location targeting, language targeting, and audiences.
---
After you name your campaign and choose your network, you want to choose the locations you will target and the languages your customers speak. In addition, you can add audiences to your campaign as well.
 

---
Choose your daily budget and your bid strategy for your campaign. You should consider using a smart bidding strategy like Enhanced CPC, Target CPA, or Target ROAS.

---
There is a video below that describes how I currently approach my bid strategy through Google Ads. It can be difficult to find the best bidding strategy for new campaigns, but you want to use Target CPA or Target ROAS once you start driving conversions.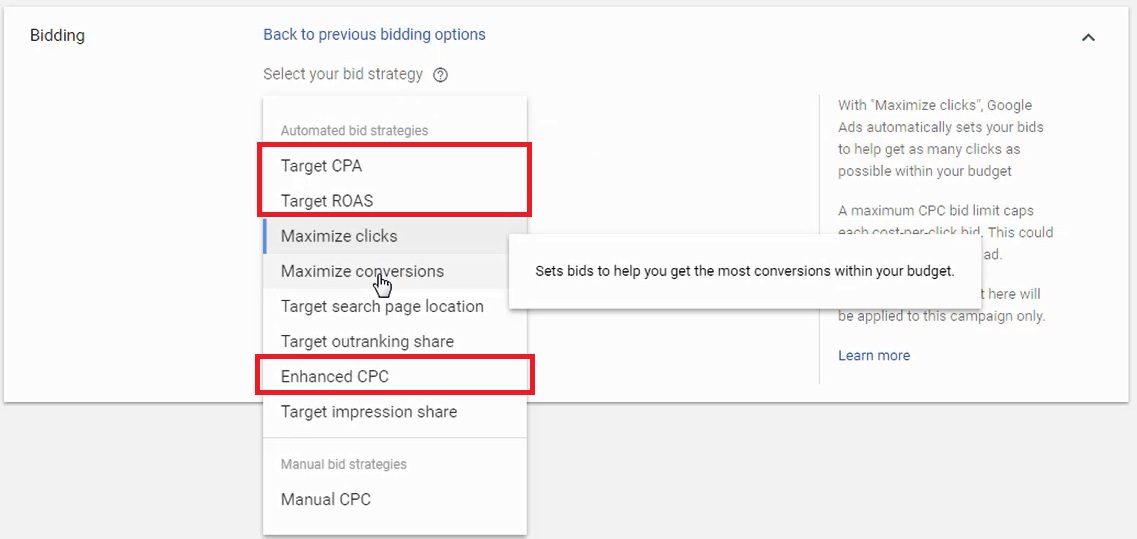 My Google Ads Bidding Strategy
---
Use all relevant Ad Extensions for your advertisements. Make sure you go through the Ad Extensions one-by-one to apply every one that applies to your business.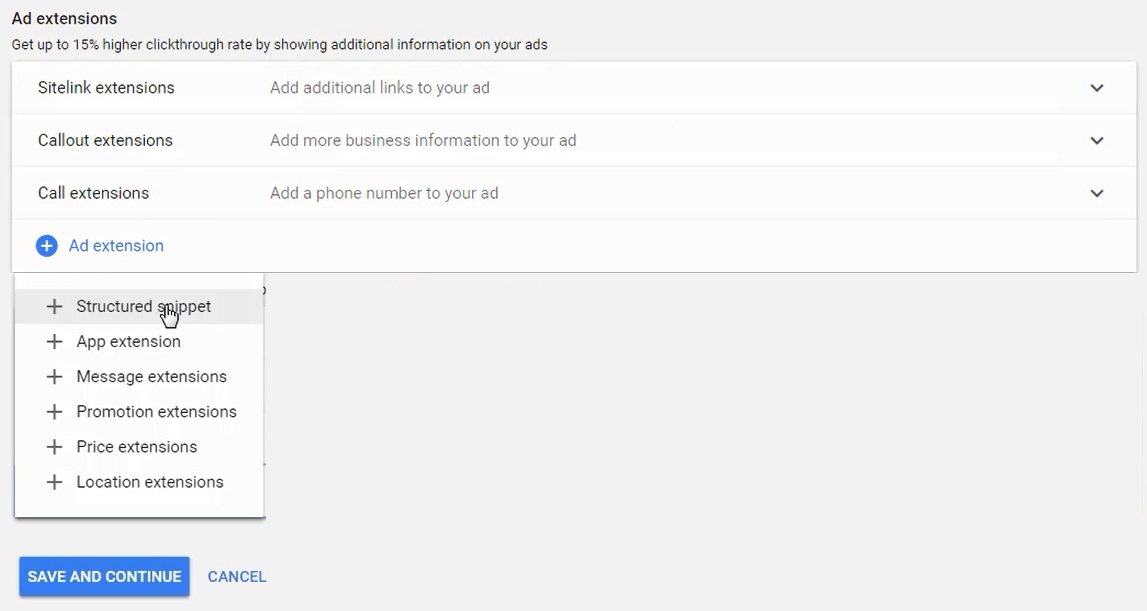 ---
Your Ad Groups should be grouped together so that you can target relevant keywords that send traffic to targeted landing pages.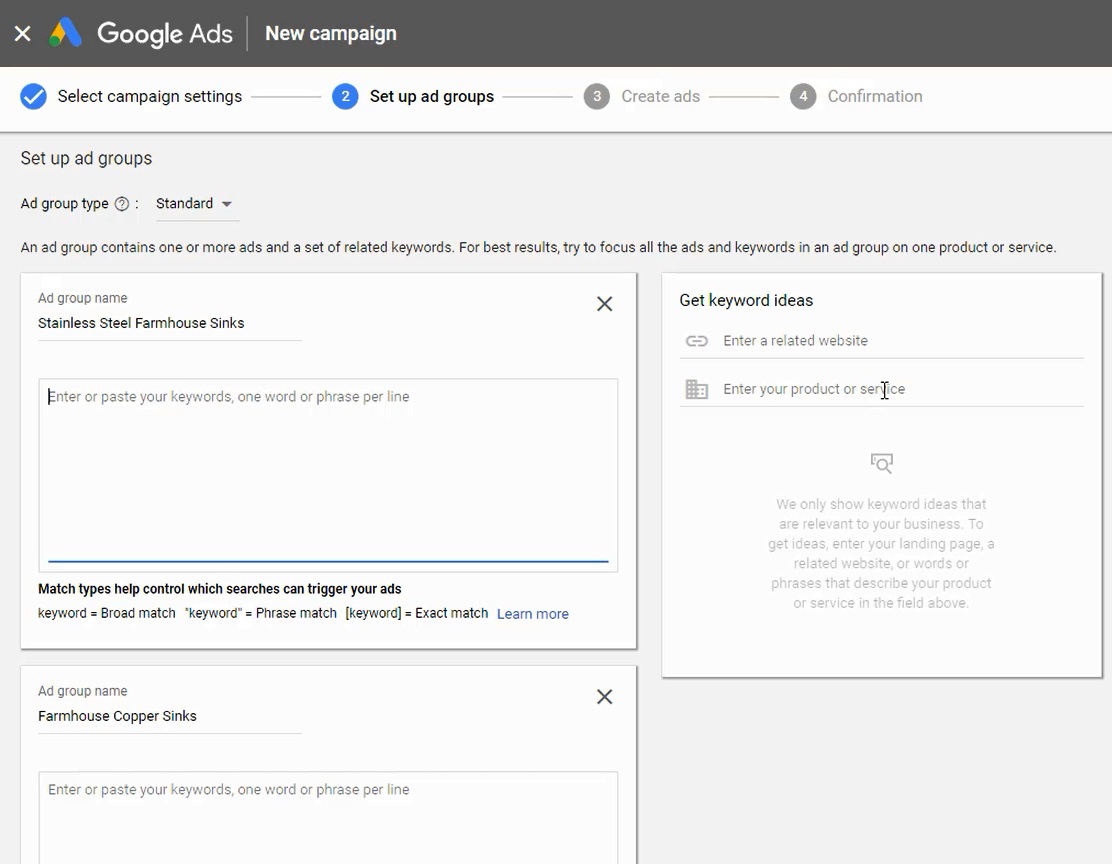 ---
Target keywords in your Ad Groups. I recommend using broad match modifier and/or exact match keywords. You should avoid broad match keywords altogether.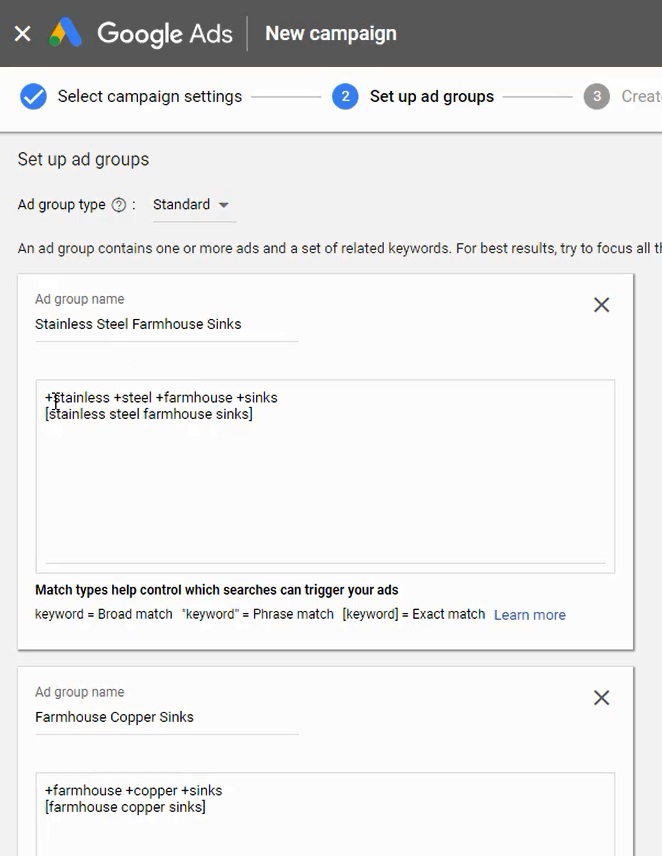 ---
Your ads should match closely to the keywords in your Ad Groups. Keywords, ads, and landing pages should align very closely.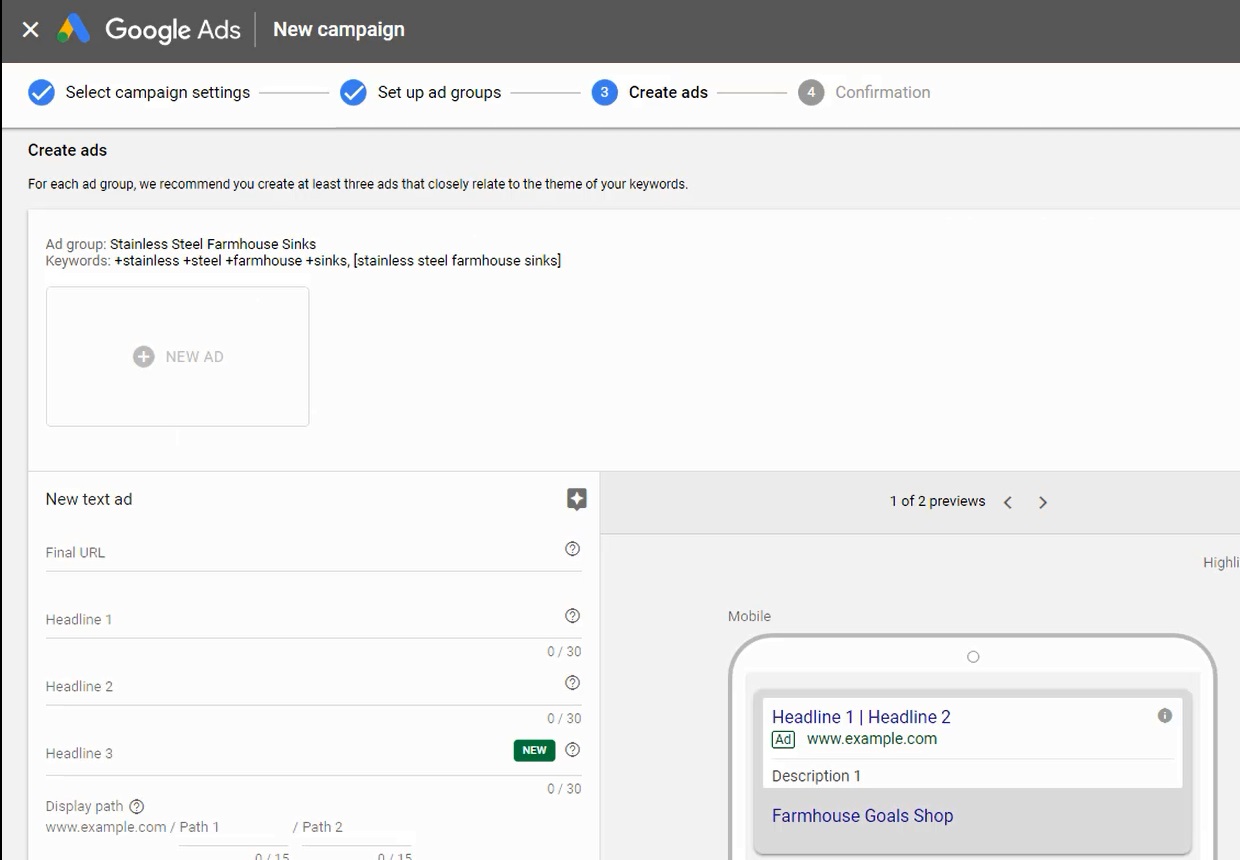 ---
Step 17 – Create Ads, Set Headlines, and Set Final URLs
You need to fill out all of the fields for your advertisements. You want to set Final URLs that match your keywords, create great headlines, and write descriptions that will clearly show the benefits of your products and services.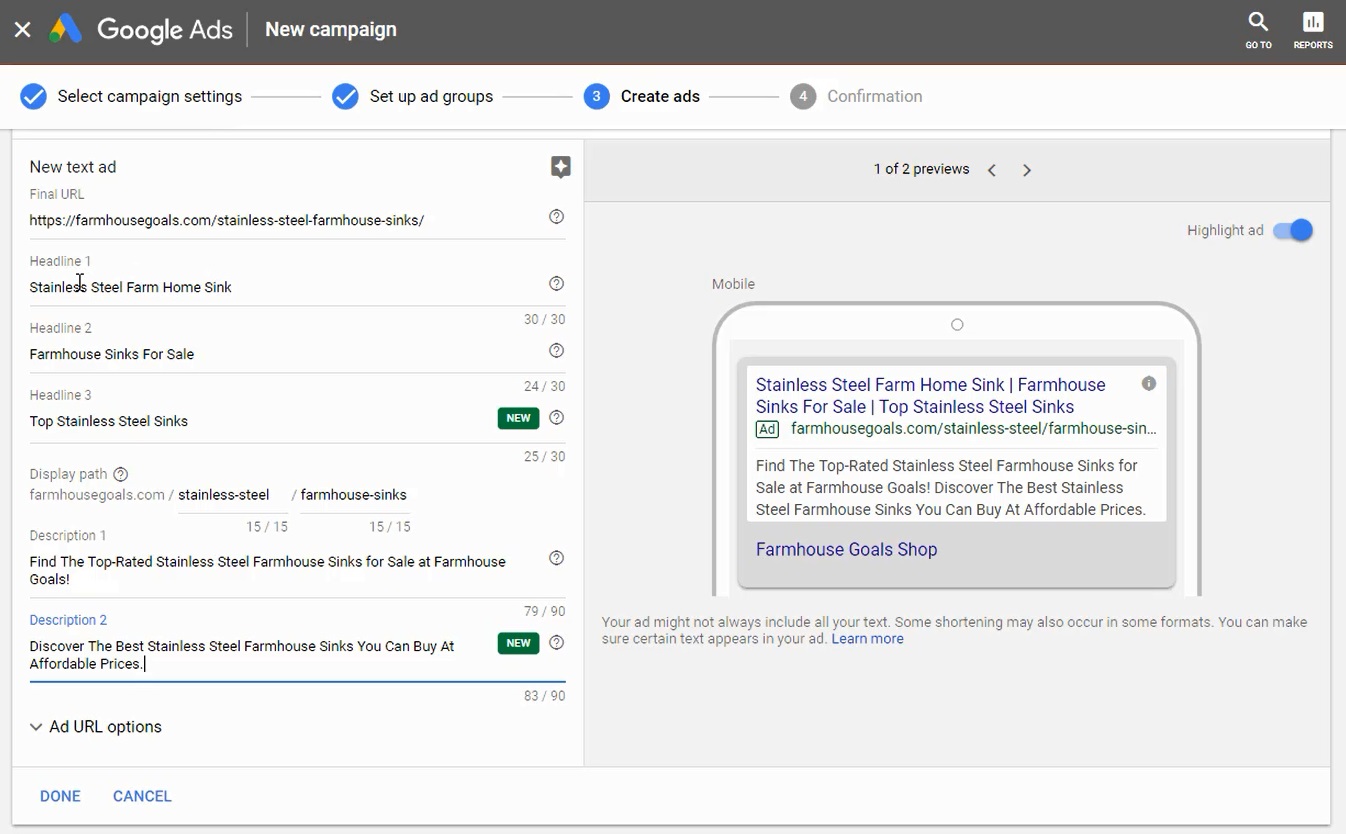 ---
Step 18 – Create 2-3 Text Ads Per Ad Group
It is a best practice in Google Ads to create multiple ads in each ad group. You should create at least 1 Responsive Search Ad and at least 1 Expanded Text Ad in each Ad Group.

---
Click Save and Continue to launch your Google Ads campaign. Then click to Continue to Campaign to view your search campaign in your account.
---
Your campaign will begin running after you go through approvals. You still need to optimize your Google Ads campaigns to drive conversions for your business.
---
---
END OF GOOGLE ADS TUTORIAL
---
There is plenty to learn when it comes to Google Ads. I listed some additional resources below so you can go from beginner to advanced on the Google AdWords platform.
---
You can find our Google Ads CPC Article Here.
Your Cost-Per-Click is one of the most important stats when it comes to your Google AdWords campaigns. If you can lower your Google Ads CPC, you can drive more conversions within your budget. The best way to optimize your CPC is to improve your quality score, organize your ad groups into relevant categories, create relevant ads with relevant ad extensions, and improve your landing pages for each ad group.
 

---
You can find our Keyword Match Types Blog Article Here.
The 4 keyword match types in Google Ads are broad match, broad match modifier, phrase match, and exact match. When you target specific keywords on the search network, you can choose the search terms that your ads will show for. Every search query on Google can potentially trigger advertisements, and by targeting keywords you can enter the Google Ads auction and drive targeted traffic to your website.
 

---
You can find our Negative Keywords Blog Article Here.
Negative keywords are used for search campaigns to exclude certain search terms or phrases from your campaign altogether. When you add a keyword as a negative, your ads will not show when people use that word or phrase in their search query. Negative keywords are used for display and video campaigns to narrow your targeting. For example, you can add keywords like 'food' and 'recipes' to your display/video negative keyword list to avoid those websites and videos altogether.
 

---
You can find our Attribution Modeling Blog Article Here.
When you are using conversion tracking, you can choose how to attribute conversions. As marketers, we understand that people may visit our website multiple times and click on multiple advertisements before they finally convert. There are 6 total attribution models in Google AdWords at this time, and we went through all of them in the blog article above and the video below.
 

---
Google Ads Playlist
You can find all of our Google Ads tutorials below, or you can go directly to our YouTube playlist here. If you keep scrolling down, you will find articles for each of the videos and individual tutorials as well. Our goal is to give you the tools you need to get started with Google AdWords advertising campaigns.
Google Ads Tutorial 2020 – Step-By-Step Google AdWords Tutorial for Search Campaigns
Google Display Ads Tutorial 2020 Step-By-Step – Create Google Display Network Ads Campaigns
Google Ads Tutorial for Beginners in 25 Minutes – Create Your First Google AdWords Campaign
Google Display Ads Tutorial for Beginners in 25 Minutes – How To Create Google Display Network Ads
Google Ads Search Campaign Tutorial – How to Create Successful Search Campaigns
Google Ads Smart Display Campaign Tutorial Step-By-Step
Step-By-Step Gmail Ads 2020 Tutorial
Create Google Ads Campaigns With The Google Keyword Planner
Google Ads Lead Form Extensions 2020: Everything You Need to Know
---