(And How To Host A Successful Virtual Summit)

Have you ever been to a conference?
If you are like me, you would have attended many conferences in the past; and realize that as much as they are important for your business, they are also a big drain on your valuable time, energy and resources.
There are costs such as:
Travel time
Food, transport and accommodation
Opportunity cost of time spent away from business
A big fat conference price tag
All conferences require some form of local or international travel as they usually happen in exotic locations around the world, instead of your own city.
An international conference requires at least 1 day of travel to get there and 1 day back home. This makes a quick 3-day conference into a 5-day affair.
For a business, this cost can quickly swell-up and for each resource that's going to travel with you to the conference it's going to set you back:
5 days of salary
5 days of travel, food and accommodation
The cost of printing additional marketing material for distributing during the conference
For the average mid-level employee that's a cost to a company of over $5,000 per conference per attendee.
These high time and financial costs have business owners looking for different ways to up-skill their employees and help them dramatically increase their network.
Could there be a better way?
Yes, and it comes in the form of an online conference, aka a Virtual Summit.
In this tutorial I'm going to reveal my virtual summit secrets so you too can launch a profitable event.
11 Steps: How To Host A Virtual Summit In 90 Days (And Catapult Your Business) Beginners GuideClick To Tweet
What is a Virtual Summit (Video + Examples)
The Virtual Summit is a conference held online that brings together expert speakers to present on a specific topic.
People can register with their email address to watch the video interviews and presentations often for free during the event.
Access to unlimited viewing of the 5 to 30+ talks requires an upgrade.
Take a moment to think of a conventional summit, then imagine taking it online. That's exactly what a virtual summit is!
Like an offline conference, it has talks on topics related to a specific niche or sub-niche.
A virtual summit is a conference held online that brings together expert speakers to present on a specific topic.Click To Tweet
The critical difference is that with an online summit these talks are usually pre-recorded which means that there are fewer opportunities for last-minute technical issues or speaker no-shows.
While the talk is pre-recorded, usually the speaker is available on chat to address any questions you may have after going through the session.
Why Are Virtual Summits Gaining Popularity
Online conferencing is the latest trend being picked up by both experienced business owners and people just starting out.
Apart from the obvious benefits in costs and time of holding a conference online, they offer an opportunity and impact bigger than your physical conference.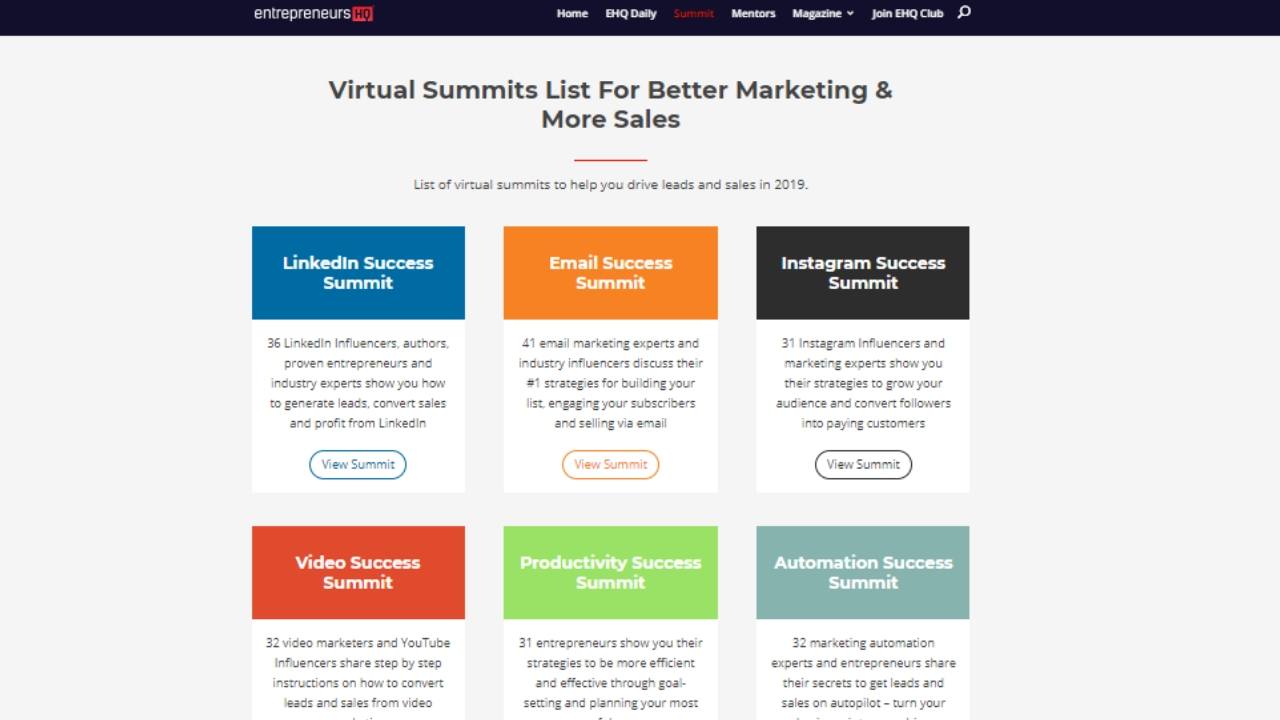 Most businesses (including your competitors) are losing piles of cash in trying to make physical conferences fruitful.
Is it even making any measurable impact on the growth of their business? It is difficult to measure. And therefore, spending so much money on these physical conferences is questionable.
But the opposite is true when you host a virtual summit.
These virtual conferences are changing the game. If you have the right approach, implementing the secrets I'm sharing with you today and the desire to host one yourself, it's a home run waiting to be hit for your business.
Virtual conferences are changing the game. If you have the right approach and the desire to host one yourself, it's a home run waiting to be hit for your business.Click To Tweet
A virtual summit is:
more accessible, all you need in an internet connected device
more affordable, just register for your free ticket
novel, you can be as creative as you wish
measurable, probably the most important factor
An online summit is an opportunity to build your brand and position yourself as a leader in your industry by hosting your own virtual summit, or sponsoring an upcoming online confererence, that offers measurable opportunities.
If you want to:
Partner with influencers even if you don't have a network
Grow your email list by 1,000s of hot prospects ready to buy
Position yourself as a leader in your niche
Then it's high time that you learn how to host an online summit.
How To Host A Successful Virtual Summit
If you are excited about the prospects of hosting an online summit, then I urge you to understand how they work. Then, I will take you through the finer details on how to host a virtual summit step by step, and the tools you'll need in the process.
Having hosted 15 virtual summits since 2015 with attendance ranging from 3,000 people to well over 20,000, I've been fortunate enough to learn from some of the top marketing thought leaders in the industry, including the likes of Rand Fishkin, Neil Patel, Jill Konrath, and Todd Herman – all of whom have featured as speakers on our summits online.
Many of these lessons were learned the hard way, so I decided to pack all this knowledge into a detailed guide tutorial on how to host an online summit successfully (while avoiding some of the mistakes that I made!)
Ready? Let's dive in.
(If you'd like coaching on how to host a virtual summit, check out our Virtual Summit Academy implementation program which goes into even more granular detail than this tutorial.)
How Does A Virtual Summit Work?
There are different approaches on how to host a virtual summit. But, in general, most summits online have a summit host, a line-up of speakers (usually between 5 to 50), and summit attendees who sign up with their name and email address in exchange for access to content.
The details vary from summit to summit. For example, our Email Success Summit has over 40 speakers, and the summit is free for attendees for the duration of the summit, after which it becomes paid-for content.
How are virtual summits presented?
The most common is in an interview format where a summit host poses a series of questions to the speaker. The speakers receive these questions in advance and have time to think about and prepare their answers.
The most common format for a virtual summit is the interview format, where a summit host poses a series of questions to the speaker.Click To Tweet
The second approach, a less popular format, is for the speakers to prepare presentations themselves. The reason this is less popular is that it requires more work for the speakers, who are busy people, and they are, thus, less likely to agree to be involved.
However, the perceived value of a presentation is higher, so it's a good practice to mix up your summit to include both forms.
Now that we've looked at the format of these online summits, you're probably wondering…
What are the different virtual summit models?
There are 3 primary models for a virtual summit depending on what you want to achieve, including:
Free Model
Freemium Model
Premium Model
Free Summit Model
If you're going to generate a new list of leads, you'll probably want to go for a 'lead generator' style summit that is free to attend. The attendee gives you their contact details in exchange for access to the summit online.
This type of summit is the most popular when trying to grow your email list. If you do your job well and have a good virtual summit funnel, you can turn many of these leads into paying customers further down the line.
Freemium Summit Model
The second cost structure is a freemium summit. This format allows people to register for free, but then for specific sections or benefits, there is a paid upgrade. Remember that you want people to benefit from the summit, so you need to be sure you're adding enough value to free attendees.
The freemium format allows people to register for free, but then for specific sections or benefits, there is a paid upgrade.Click To Tweet
The last thing you want to do is mislead them and have your prospects thinking it's all free, when in fact anything of value is locked behind a paywall.
Premium Summit Model
The third cost structure is a premium summit. These require attendees to pay a fee to attend. This structure is less popular. They generally work well with an existing customer or lead base who already know you well enough to make a payment.
Which virtual summit model is best?
It's worth noting that a free summit will generate many more leads, and combined with a robust virtual summit funnel, are far more profitable in the long run.
Think of the free summit as a way to warm up cold leads. As a digital asset, your goal is to get as many people as possible to attend.
A freemium summit, on the other hand, requires you first find then warm up your leads before they spend money to attend.
A free summit will generate many more leads, and combined with a robust online summit funnel, are far more profitable in the long run.Click To Tweet
A premium summit works best if you're in a niche where there is little information available and your speaker line up are known faces with information that attendees would be willing to pay for.
A well-run online summit requires a lot of work, and some investment, so let's look at the benefits to see if it's a good growth strategy for your business.
5 Key Benefits of Hosting Summits Online
A virtual summit is a 3-way win:
Your audience gets access to excellent content at no cost
Your speakers get exposure to new audiences that they would otherwise not have had
You (as the organizer) have the opportunity to build your authority through association with industry leaders while growing your audience.
Let's focus on how your business can benefit from a well-run online summit.
Benefit #1: Generating New Leads
Somewhere along the line, you need to fill your pipeline with leads. One of the easiest ways to achieve this is to have an irresistible offer for prospects.
Remember how we said that a conference costs a company typically around $5,000 per attendee? Well, if you can offer them a free virtual summit with the same benefits as a traditional one, all in exchange for an email address, who could refuse that?
A virtual summit blows the traditional lead generation methods right out of the water!
Let's look at writing a blog post for example.
It takes hours of research, hours of writing, and hours of editing. Once it's finished the real work begins in promoting it. If you've done a great job, you'll get a few social shares.
However, a virtual summit is a real event with built-in shareability.
Download our Guide To Catapult Your Business With A Virtual Summit which reveals how the benefits of a virtual summit lead to exponential results for a new or existing business.
People want to listen to industry experts and have access to ask them questions, and this platform provides the means to do that. That's enough to get anyone excited and, hopefully, to get them sharing.
Another massive benefit is if you can leverage the networks of your speakers. They're always looking for channels to build their brand, and this is an easy way for them to do that.
Speakers promote the summit to their followers as it is a way of proving that they are industry leaders in a niche. It's important that you incentivize them to share your online summit to their mailing list and social following.
Imagine you have 30 speakers on your online summit. If you can get each of these to share your summit with their followers, you could quickly be reaching a few million prospects.
Because the summit has been promoted by someone that the follower is familiar with and trusts (they choose to follow them or have subscribed to their mailing list), your chance of having a high signup rate is good.
Finally, these are leads that are interested in your niche. If they've been following the industry experts, and signed up to their mailing lists or followed them on social media, you can be sure they're interested in the niche. That means they have been pre-qualified. You can't ask for a better lead than that!
So to summarize, you're offering something that has great value for free and it's being promoted to targeted followers (usually at no cost to you) by someone that these followers trust. This is the perfect recipe for generating a large list of targeted new leads.
Benefit #2: Increase Your Network
We've all read those business books whose mantra is "it's not what you know, but who you know." A virtual summit is a fantastic way to connect with industry leaders for future collaborations.
Because you have something to offer them (an opportunity to grow their influence by reaching new audiences as well as a way to enhance their authority), they are more likely to be open to having a conversation with you than they would otherwise.
As the organizer of the online summit, you will have the chance to build strong relationships with these industry leaders. This has the potential to open doors for future partnerships, affiliate arrangements, and other ongoing benefits after the summit is over.
Consider that these relationships are also an asset that can be maintained and leveraged many years into the future.
Benefit #3: Establish Yourself As An Authority
If you're selling a product, one of the pillars of selling is to ensure that prospective customers trust you and your brand. For many new leads who haven't heard about you before, it's difficult to build up this trust, and it can take a long time.
There is so much noise and so many scams online that people are cautious, and it can take many months to warm up a lead before they're ready to purchase.
We've found that one of the most significant benefits of a virtual summit is that it enables you to reduce the length of your sales cycle by quickly positioning yourself as an authority.
How does it work?
In any niche or industry, there are certain brands, and individuals who are considered industry leaders, and experts. The secret to short-cutting the time it takes to be seen as an authority is to be associated with these leaders.
You can quickly leverage your authority on the back of their reputations. If you're able to get some A-list speakers at your summit, by implication, they've endorsed your brand.
So even if people don't know you, by seeing familiar industry names at your summit, you'll quickly increase your reputation, and decrease the length of your sales cycle.
This is one of the most significant benefits of running a online summit, being positioned as an equal alongside your industry's influencers.
Benefit #4: Grow Your Revenue
At some point, you want to make a profit from your online summit.
As previously mentioned, a virtual summit is a fantastic way to boost your authority quickly, and reduce your sales cycle, which will significantly help your bottom line.
There are some other ways to monetize a virtual summit as well, and we would suggest testing them to see what combination works best.
Depending on the size of your online summit, you may easily be able to reach out to other companies, and offer them sponsorships.
For example, in your online conference, one of the speakers may advocate using a specific product. You could then reach out to the product providers, and ask them if they would like to sponsor an advert or video, bringing in additional revenue for you.
Another popular method is to use an affiliate network. It's likely that the speakers will reveal various tools or products that they use.
You could reach out to these product creators, and negotiate an affiliate arrangement. They will provide you with a link, and when that link is used for purchases, you'll earn on the sales.
What makes this powerful is that the industry leaders are telling people what tools to use, and you're earning commission when the attendees decide to purchase them. When this happens, the conversion rate on these links is through the roof.
PRO TIP: To increase your sales using this method, you can ask affiliates for a limited coupon code that's only available to summit attendees. This is a surefire way to give your affiliate commissions a nice boost.
If you're running a 'free' summit, you may want to add some paid upgrades. You could provide access for a week for free, and then introduce a paywall.
Alternatively, you may want to introduce an All Access Pass as an upsell. You would need to split test the price point for this, and strike a balance between what's free, and what's locked behind a paywall.
Finally, since you know people on the summit are interested in a specific niche, you can use the opportunity to cross-sell or upsell to them. This could be a new product you're offering or a particular service that they can access at a discounted rate for the duration of the summit.
Remember that the real value of a online summit doesn't come from upfront direct revenue generated. It comes from building a targeted, and engaged email list of leads. That's your true asset.
Benefit #5: Product Creation
If you've done your work in the right way, at the end of your virtual summit, you'll have a high-quality product – an asset you can leverage again and again.
If someone could show you a way to invest $100, and get out $500 after 30 days, on repeat with a high probability of success, wouldn't you be interested?
That's what an online summit can do, except that you can scale it as much as you like.
An online summit also provides a fantastic way to develop, and test new products. If you've done your job well, you'll have an engaged audience, and can easily sell other related products.
11 Steps to Planning a Successful Virtual Summit
If you're on the same page with everything we've covered so far, your summit is on track to be a raging success! Let's jump into the first step of this planning a virtual summit tutorial.
Step 1: Choose a Topic
This will depend on the overall purpose of your business. The subject for the virtual summit should be on a topic that is closely aligned to the vision of your business.
Our focus at Entrepreneurs HQ is on digital marketing and making it easy to action the strategies of proven entrepreneurs, so our virtual summits have been on related topics that feed into that vision – such as email marketing, LinkedIn, video marketing, and marketing funnels.
Another thing to consider before settling on your topic is why you are choosing to host an online summit.
If your business prioritizes high-quality content across a range of mediums (such as blog posts, YouTube videos, podcasts, tutorials, guides, courses, and more), then hosting a virtual summit may be a natural extension of the kind of work that you are already doing.
The thinking behind this is that the medium of a virtual summit should also be a good fit for your business.
Choosing a topic that aligns with your business purpose should leave only a couple of topics for the theme of your online conference.
Download our Virtual Summit Checklist which will take you through the 3 pillars to your perfect summit topic.
If you are marketing a task manager tool such as Asana, your summit would likely be on the subject of project management or productivity; whereas if you have a SaaS-based SEO tool, such as SEMRush or Moz, your topic would be related to the SEO niche.
Then you need to think about what topic would address the pain points of your audience, covering the content that you'd like your attendees to walk away with, and real lessons that you could teach them.
Think about how you could upskill any person who attends your event, whether they are complete novices or have been in the industry for many years.
Think about how you could upskill any person who attends your event, whether they are complete novices or have been in the industry for many years.Click To Tweet
The most successful virtual summits focus on a particular topic and have speakers talking about different aspects of that topic.
For example, we hosted an online summit in the niche of email marketing (our Email Success Summit) where we hosted 41 industry thought leaders, all speaking on areas in which they are specialists.
The course content covered different areas related to email marketing including how to generate and convert traffic, writing emails that build credibility and trust, and strategies for creating a massive email list.
All of these topics provided actionable insights that were designed to upskill attendees, and the training was facilitated by the biggest names in the industry including InfusionSoft, AWeber, CopyHackers, and LeadPages speaking on topics that they have specific knowledge on.
With all this in mind, when choosing your topic, you should answer this ONE question:
With my virtual summit, what specific problem do I want to solve?
Once you've identified the problem you want to solve, it's easy to work out what topics will be relevant.
PRO TIP: If you're looking to find the most pressing problem, send out a survey to your existing customers. You'll be surprised by what they perceive to be the most pressing issues affecting them today.
The most successful online summits cover a specific aspect of a topic from a range of different angles. Avoid going too broad with your summit as it can hurt your goals.

Step 2: Define Your Purpose
Now that you've defined the specific problem your summit will solve, and what topics need to be covered, the next step is to determine what the purpose of the summit is.

Your goals will vary widely depending on what your budget is, whether you have an existing email database, and if you have an established network that you can reach out to and ask to speak at your conference.
We recommend first defining the purpose of your summit as this will shape your goals.
The purpose of your summit is the 'why,' and the goals are the measurable 'how' part of the equation.
We suggest asking these questions to help clarify the purpose of the summit.
Firstly, is the purpose of your summit to build brand authority or generate new leads?
Your answer here will have a significant effect on your planning decisions. If it's about building brand authority or generating new leads, your goals will focus on leveraging the speaker's network and getting as many people as possible to see your brand. So rather than focusing on the monetization of the summit, you may want to make as much content as possible free, to get as many people exposed to your brand.
A key thing to remember here is that once you've built up an active email list, you will be able to offer them other products, and services in the future. Often the lifetime revenue this generates far exceeds the immediate revenue from summit sales.
Secondly, is the purpose of your summit to generate immediate profit?
If this is the purpose, it will shape how you structure your monetization for the summit. Rather than focusing on the number of leads, you want to measure the revenue it generates from summit All Access Pass sales. Getting people to signup for free won't matter to you if you're only focused on the immediate profit.
Thirdly, is the purpose of the summit to validate a solution or launch a new product?

Using an online summit to validate an idea or new business is a handy technique and will save you countless hours in the long run. If done correctly, your summit will have an engaged audience within your niche, and you can quickly see if your new idea is all you think it will be. If this is the purpose, you may want to focus on generating as many free signups as possible to 'validate' your solution.
Fourthly, is the purpose of the summit to sell a high ticket product?
Selling a high ticket off the back of warming up all the new leads coming into your business from the summit is a wise move. You can benefit from everything a summit has to offer and then amplify your revenue by upselling prospects to your high ticket product. There are several ways to do this and you need to make sure everything you do in preparing your summit aligns with this purpose.

Step 3: Define Your Specific Goals
Now that you've clearly defined your purpose we recommend getting more specific with your goals. These goals will help you achieve your objective.
When you're setting your goals, to have the highest chance of achieving them, you'll need to ensure that they are specific, measurable, and achievable — each time you write down a goal, ask yourself if it matches those three tests.
PRO TIP: A goal that's not written down is as good as not having one at all.
Email Subscribers & Lead Generation
Whenever people or brands create an online summit, the most popular goal we've found is to generate email subscribers. These email subscribers can be added to a marketing list, and with a little bit of careful nurturing, later be converted into your most loyal paying customers.
You've heard it a hundred times before… "The money is in the list", and a virtual summit is one of the easiest ways to generate a niche specific and engaged list.
An email subscriber is often the first step in getting a paying customer, whether you're selling to them later or getting them to attend a paid online conference.
The first goal you should define is how many email subscribers do you plan to attract?
For some, this goal is 1,000, while for others it's 100,000. It all depends on your existing network, niche, and reach of the influencers involved in your summit.
Before you set this number, ask yourself these questions:
Is the person creating the summit also doing all the promotion?
What is the full email list exposure of all your promotion partners?
Have you accounted for any last-minute speaker cancellations?
Will you incentivize speakers to share your summit to their followers?
These will have a massive impact on what's a realistic email subscriber goal to achieve.
Number of Promotional Partners
One of the benefits of hosting a virtual summit is leveraging the networks of your affiliates, sponsors, and speakers to help drive your growth. Depending on your subscriber acquisition goals, you may need more speakers at your summit or an affiliate with a more significant reach.
One of the benefits of hosting a virtual summit is leveraging the networks of your affiliates, sponsors and speakers to help drive your growth.Click To Tweet
How to calculate your subscriber acquisition goal?
Let's assume your partners have a combined list of 500,000 email subscribers. (That's either 10 partners with 50,000 each or 2 partners with 250,000 each)
Let's assume you get them all to send an email to their subscribers. At an average industry click-through rate of 1%, that means you'd get 5,000 visits to your landing page from their email outreach.
If your landing page converts traffic to subscribers at 50% that would generate you, 2,500 new subscribers, if all goes according to plan.
If your goal is to generate 25,000 new email opt-ins, you'd need your partners to send 5 million emails. Of course, your partners could send 2 emails each so that would halve the combined list size you'd need to 2.5 million.
Are your email subscriber goals realistic? Do you need more partners or partners with more reach to achieve your goals?
Timeline
The third most important goal is to define your schedule.
Remember that if you want to get the top industry speakers on your summit, you will need to allow for their busy schedules. These top-rated speakers are not sitting around with nothing to do. Instead, they have a jam-packed diary, and if you want to get them involved, they may need months of notice.
Additionally, if you want them to send multiple emails to their subscriber base, you will need to ensure that they have time to plan these into their schedules. Many of the top speakers have email slots booked for months in advance.
They can't keep hitting their subscribers with offer after offer, so if you want to get to their subscribers, you've got to book your slot in advance – the bigger the speaker with a broader audience, the more in demand they'll be. You're probably not the first brand who wants to reach their subscribers, so make sure you come with an offer that incentivizes them and that you're not the last to the party.
Trial Signups
Once you know how many email subscribers you're likely to get, the next step is to define how many of these you expect to sign up for a trial for your product or services.
This number varies significantly across industries and niches. Your existing brand authority also plays a role in the number of signups.
To calculate how many trial signups, you're likely to get from your email subscribers, review your Google Analytics stats. Work out your ratio of email signups to trial signups.
It also depends on how good your trial signup offer is!
For some companies, they have a 60% trial signup from email signups, while others have a 5% trial signup rate.
If your trial signup ratio is low, it's time you did some split testing before your online summit. If you had to cut down a forest, would you instead use a blunt axe or take time to sharpen the axe?
You could start immediately, with a dull axe, or you could take the time to grind the axe, which will save you so much time in the long run. It's the same with conversions, and split testing.
If you're going to all the effort to run a virtual summit, make sure you've got the best conversion rate you can get.
PRO TIP: Make your trial signup a mandatory requirement to join your online summit.
We would recommend doing two things.
Firstly, testing 5 different trial signup offers.
Secondly, testing 5 different landing pages.
Another thing we've found extremely useful is to include prominent and regular calls to action within the summit to get your attendees to sign up for a trial.
PRO TIP: Make it clear, don't be pushy, and keep it simple for the highest conversion rates.
Revenue & Sales
Much like the trial signup goals, you will need to define your revenue and sales goals. Ultimately, you want to be paid for the cost and time it takes to run a virtual summit. The goal for any promotional activity is to generate sales.
We would recommend breaking these goals into two categories.
Short term & immediate sales
Long term sales
The short term sales are directly from your summit. These could be sales from people who've purchased an 'All Access Pass', various bonuses, upsells, or purchases through affiliate links, as well as sponsorships.
Longer term sales goals are more difficult to define and require some broad estimates based on experience. For example, you may be able to sell to your email list multiple times in the next 2 years. In fact, we've still got people buying from us today who joined our first summit in 2015.
Work out your average revenue per email subscriber over the last two years, and use that as a ballpark.
Download our Virtual Summit Blueprint which gives you the roadmap to hosting a wildly successful summit.
Step 4: 29 of the Best Virtual Summit Platforms & Tools
We like to think of tools like a mechanics workshop. If you've got the right tools, and know how to use them, fixing a car should be straightforward.
It's the same with hosting an online summit. You need to have the right toolkit to start, or you'll find yourself severely limited in what you can achieve.
Finding, and testing different virtual summit platforms can be time-consuming, and expensive, so we've taken the guesswork out. This is a list of some of our favorite tools for creating a profitable online summit from start to finish.
Website Software
This is a list of our top software products that will take you through the process of finding a domain name, hosting, setting up, and launching a summit website.
Domain Name
Finding, and purchasing a domain name is straightforward with a good registrar. We use Namecheap. NameSilo is another good option. This costs around $10/year for a standard .com.
Estimated Cost: $10/year
Hosting
Reliable hosting is non-negotiable. We use Cloudways because of their great support (they're online 24 hours a day, seven days a week, 365 days a year), and excellent uptime stats. They can quickly scale to adjust for your temporary spike in summit traffic so you don't pay more than you need. Cloudways also offer free migration and a WordPress setup service.
Estimated Cost: $10/month
Platform
Our online summit platform of choice is WordPress. It's easy to use, integrates well with third-party apps, and is entirely customizable. It also powers over 30% of the websites on the internet and is growing in market share, year on year.
Estimated Cost: Free
Theme
Themeforest is a great place to start if you're looking for an out of the box theme that will allow you to create a beautiful site quickly, and efficiently. The Keynote WP theme or Meetup Conference Event WP Theme available on ThemeForest could be good options for building out your virtual summit website. Both are a lightweight and fast loading theme with a solid support team. They regularly push out updates and integrate well with popular third-party plugins.
Estimated Cost: $60
Page Builder
There are a couple of good options that will make the process of page designing quicker, especially if you don't have any prior design experience. ThemeForest has a couple of well-developed ones (you can sort by popularity to see which one most people are using) such as Visual Composer by the WPBakery team.
Visual composer is drag and drop, which means you don't require any coding experience to use it.
Another popular option is Elementor. Over the last few years, Elementor has taken massive strides and is deemed the best drag & drop page builder by many WordPress experts.
What makes Elementor extremely powerful is the library as well as various third-party landing page libraries such as The Landing Factory, or CSSIgniter. If there's a particular style you like, you purchase the template and update the text and images saving you hours of design time.
Total Cost: $100/year and an optional $100 once-off for templates.
Split Testing
We use Google's split testing tool: Google Optimize, which isn't as easy to use as other tools, but does have the advantage of being free! Alternatively, you can use VWO which is an industry-leading tool, and starts at $50/month. More on split testing in Step 8.
Estimated Cost: Free
Carts & Payments
ThriveCart is a popular option to generate revenue with high converting cart pages, one-click sales funnels, affiliate campaigns and tracking features. For processing payments, we recommend Stripe because of its ability to handle credit card payments. Another option would be to use PayPal. Please note that both Stripe & PayPal have fees that work on a percentage of sales. You can budget around 3% of any transaction to be allocated to payment processor fees.
Estimated Cost: 3% of sales
Analytics
It's vital that you know where people come from, and what they do on your site. Not having this information is like trying to drive a car in the dark with the headlights off. It's not a good idea, you need to know where you're going! Google Analytics is easy to use, even for beginners, and it is free.
Estimated Cost: Free
Email Automation Software
Once people sign up to your summit or on your landing page, you need some form of email marketing automation. Various tools can achieve this. The top 3 we prefer are Infusionsoft, ActiveCampaign, and Drip. Their pricing depends on your list size.
Estimated Cost: $50/month.
Membership Software
Some of your content, you will want to 'lock' down to different access levels. You will also want to ensure that content is only available to people who've either paid or signed up. There are many options for this, but a popular choice is the Thinkific platform. It's mainly used for hosting online courses; it does an excellent job for hosting summits as well.
Estimated Cost: $100/month.
Video Software
Scheduling Interviews
We like to use Calendly so that we never miss an interview, regardless of time-zones. It integrates well with Google Calendar and allows you to identify and book a slot that suits both parties quickly. Another good alternative is BookLikeABoss, they have fantastic support, and it has all the features of Calendly.
Estimated Cost: Free
Recording Videos
We love Zoom software for recording our interviews with speakers. It's incredibly simple to use, and it's free (although you can upgrade for access to additional features such as HD recording).
Estimated Cost: $15/month.
Video Editing
For editing videos at Entrepreneurs HQ, we use iMovie (for Mac users). Movie Maker is a good option for Windows users. Editing doesn't require fancy software, so this is one area where you don't need to spend money to get a good result. A good alternative is ManyCam. This software allows you to record and edit videos with ease, and it makes managing multiple video sources simple. For example, if you have multiple speakers at the same time in a session. If you use this, you won't require Zoom for recording videos.
Estimated Cost: $100 once-off.
Video Hosting
You will need reliable video hosting as the video is the core of your summit offering. We like Vimeo for hosting, and streaming because it's easy, and intuitive to use (we've used it for all of our summits.) Another popular choice is Wistia. They're more expensive but packed with features to help you earn more money, and boost conversion rates. Depending on how you structure your virtual summits, you may find this an excellent choice to offer upsells, or trial signup offers directly within the video.
Estimated Cost: $7/month.
PRO Tip: All-in-one Software Options
As you've noticed, there's quite a bit of software that's required to run a summit successfully. If you're starting, and don't have many of the above elements, we would highly recommend using ClickFunnels. When choosing this option you won't need many of the other tools already mentioned since it has features including landing pages, hosting, analytics, split testing, email automation, membership areas, affiliate tracking and many other features.
Estimated Cost: $297/month
Best Equipment Needed For Beginner Summit Hosts (& Podcasters)
We like to keep this as simple, and affordable as possible. You don't need a complicated set-up to host an online summit effectively, but there are some necessary equipment that will make a big difference.
Microphone
Good quality audio is key to hosting an amazing online summit, even more so than video quality. Attendees need to have unlimited access to the content being shared, and poor-quality audio will have a significant impact on how people view the professionalism of your summit. Using your inbuilt microphone is not an option. The best value for money is the Blue Yeti microphone.
Estimated Cost: $100

PRO TIP: Order a 'Pop Filter' to get an even better sound. It's $15 and will give you a much rounder, and clearer sound.
Earphones
A simple, minimalist solution works well here. In many cases, headsets won't be necessary, but if you do need to use them, a small, unobtrusive pair such as Apple EarPods are a good solution.
Estimated Cost: $30
Webcam
Using your computer's inbuilt camera isn't an option because crystal-clear video is critical. The last thing you want people to think is that you interviewed an industry expert in a dungeon. The difference between your inbuilt webcam and an external one is the difference between night and day. We like a couple of options from the Logitech range because they're small, and lightweight at a reasonable price point. The best one for the quality & price is the Logitech HD Pro Webcam C920.
Estimated Cost: $100
Lighting
This is needed to lighten any shadows on your face, and to smooth out your appearance on camera for a more professional feel. Remember that we don't want that interview in the dungeon effect? Choosing the correct lighting is the difference between an interview 'in the dungeon' vs. in 'a professional studio.' Photography softbox lights can be your virtual summit secret weapon that elevates the quality of your video.
Estimated Cost: $70
Specific Software for Hosting Virtual Summits
I've talked a lot about how to set up and run your own virtual summit throughout this guide, including how to configure the website and hosting software yourself, but no ultimate guide would be complete without mentioning some of the most useful pieces of software – virtual summit hosting platforms.
First, let me introduce you to HeySummit.
HeySummit
Setting up and running a successful summit is tough. There are a lot of moving parts from your business strategy to your summit configuration, and the tools you use to maximise engagement. HeySummit has baked-in features designed to simplify the process of producing a successful summit. These include:
Attendee registration, schedule management and multi-ticket configuration
Speaker dashboard
Talk and Panel management
Reporting features providing analytics for both before and after your event
Dynamic content landing page builder
Affiliate program management
Offers, Giveaways, Viral Incentives and more
Your HeySummit landing page is designed with the sole purpose of increasing sales. They provide a basic template for you, with all the key elements you'll need for a virtual summit, including conversion redirects. The dynamic components adapt as your summit evolves and you add further content.
Whilst the landing page default layout and copy means you can get up and running in no time, you can choose to add your own branding, and further customize the page and have full control over the CSS. The landing page components drive attendees to register, making it simple for them to check out all the speakers and their upcoming talks and select which they want to add to their schedule.
The registration flow has been optimised to remove barriers to signup and increase attendee conversion, making it easy to get your summit site up and running in minutes, ready to promote your event and take on your first guests.
As an event organiser, HeySummit gives you powerful analytics that you can act on to maximise your conversions and returns. For instance, you're able to keep track of the most popular talks, crucial intel for when you plan your next summit, as you've proven what topics people want to learn more about. To understand your successful marketing channels, you can keep track of whether an attendee was referred by one of the speakers, or came through a specific URL.
The reporting features of HeySummit help you keep your finger on the pulse whilst the summit is running, as well as letting you analyze your performance after the summit finishes. You can use the feedback questionnaires to gather opinion on what worked well, or what you need to improve for the next summit.
At the end of the summit, you'll have all the data collated in your organiser dashboard, so that you can check data like the number of attendee signups, or who were the top speakers, and so on.
Speaker management can be a huge drain on your time and focus as you prepare a summit. HeySummit enables you to invite speakers to their own speaker dashboard where they can update their information.
The speakers can add details such as their bio and a description of their talk and provide offers and giveaways. They can also view how many people have signed up for their presentation and view swipe copy to make it as simple as possible for them to push your event to their network.
Once you, as the event organiser, have created a talk you can allow the speakers to update their details which dynamically populate your optimised landing pages, driving conversion as you add more speakers to your event line-up. Adding a talk takes just a moment and only requires basic info like a talk title and name of the speaker.
In HeySummit you can choose an all-live event, all pre-recorded or a hybrid, it's up to you.
There are deep integrations with Zoom and BigMarker making live events simple and taking away lots of the admin of setting up unique URLs for each of your talks. If you prefer to pre-record the talks, then you can use a video hosting platform such as YouTube, Vimeo, Wistia, VooPlayer, or Dubb. It can all be done easily using the HeySummit platform.
Prices for HeySummit start at $59 per month for the basic package.
Basic plan:
Up to 2,000 attendees
1 active event
However, it might be worth considering the professional package, which costs $99 per month.
Professional Plan:
5,000 attendees
5 active events
Additional support for affiliate management, and making your summit evergreen, as well as allowing for multiple team members
Business Plan:
20,000 attendees
10 active events
Unlimited hosts
Unlimited team members
Access to HeySummit API
Ability to use custom payment platforms (like running your own Stripe Account)
At $249 per month, you'd need to make sure you really need it before paying for it. But as your summits grow in size and popularity, you may find yourself shifting into this bracket quickly.
The team at HeySummit have carefully considered what you need from a platform to host a virtual summit. Afterall, they started building the platform when they needed a tool to run a virtual summit and couldn't find a tool that performed as they wanted it to. It's a good service to use, particularly if you're just getting started with virtual summits.
There is another software service for hosting virtual summits that I want to talk about, which has the appropriate name of Virtual Summits Software.
Virtual Summits Software
Pricing is competitive with HeySummit, at $997 annually for the standard package (or $97/month), $1,497 per year for the Evergreen package (or $147/month), and $2,997 (or $297/month) for the unlimited package. However, the features are different and you may find Virtual Summits Software more useful over HeySummit.
So let me run through the features to help you decide what's best. What I like about Virtual Summits Software is that it has a load of handy features to get you up and running right away. HeySummit also does this, but it might be worth paying more for the standard package from Virtual Summits Software, depending on what you need from your summit pages.
For $97 per month the standard package gets you:
A landing page builder
You can easily manage attendees through their portal
There is easy speaker collection and management
An easy schedule builder, making it simple to organize your multiple-day summit
Automated summit attendee reminders, as well as speaker follow up reminders
Here's where it gets an edge over HeySummit, as you can provide different membership levels and sponsorship categories
It has a built-in shopping cart, making upsells even easier
Included in the price, you can host up to six summits.
Considering what you can get for the price, I think this is a good deal. However, if you don't think you'll get enough out of it, then you may wish to opt for another platform.
At the next level, for $147 per month, you have the ability to make your summits evergreen using the 'Ever-Summit Automated Feature'. This is definitely a good deal if you believe you're able to make the content of your summit keep on selling. This is competitive with the next tier of HeySummit, but of course, more expensive.
The final level of Virtual Summit Software offers all the features of the first two, but with the ability to host unlimited summits. The first two tiers offer a limit of hosting six summits. This is definitely a good deal at $297 per month, but again, you'd need to make sure you're in a position you're going to get the most out of this, in comparison with other software service providers.
I should also clarify that you do qualify for a discount if you purchase annual billing from Virtual Summits Software. Currently, you can save about 15% for each package. This is definitely worth doing if you plan to make your summit evergreen, as you'll save money in the long run. The Ever-Summit plan comes down to around $125 per month, which makes it competitive with HeySummit's mid-tier package.
Now, you could always go the route of arranging everything yourself, from website hosting to email automation, but these summit software plans do exist, and will save you a lot of time. There is also the point that they won't let you miss out on anything you need, as these guys have thought of everything!
It might be worth investing some money into these monthly or annual plans to get your summit up and running, and making it more simple to monetize your pages. However, if you're technically savvy and comfortable arranging everything from scratch yourself, then you could go that route, and I've listed everything in the items above about how you can do that.
There certainly is an opportunity to save some money by organizing everything yourself, and building on the bare bones that way, but one use of these virtual summit software platforms is that everything is set up, and it will save you a lot of time in the long run. This is valuable time that you can invest in arranging other areas of the summit.
Yet, this depends on you. It may be worth investing some money to save time and hassle, but you also may prefer to save that money, as you're confident you can set everything up yourself and you also have ample time to do it.
This really depends on you and your situation, so think wisely about what will be best for you, and whatever you do, I wish you the best of luck!
Step 5: Generate a List of Possible Speakers
This step ties closely into your goals for your timeline, and number of email subscribers. If you have a tight deadline, you may struggle to get the speakers you want.
The number of email subscribers you're hoping to generate will also shape who you need to invite.
While you may want to have Sir Richard Branson or Michelle Obama speaking at your summit, you need to check that they align with the purpose, and goals of your event. Will these 'dream' speakers like Branson and Obama attract the right type of audience for your niche?
We like to break down our speakers into three broad categories.
Category 1: Dream Speakers List
These are the A-list speakers of your niche. The best of the best. The ones with the most extensive authority, and brand recognition.
Remember these are often extremely busy people with a jam-packed diary and various speaking engagements. You're often asking them for 30 minutes of their time for free. To ensure you have a chance of getting these types of speakers on board you're going to either need:
a warm introduction
an incredible value proposition for them
a creative idea to capture their attention
Ask yourself "what's in it for them to give you 30 minutes of their time for an interview"?
There's no point spending your time reaching out to dream speakers if you don't have an appealing value proposition for them.
Remember that the bigger the speaker, the more lead time they will need.
PRO TIP: These in-demand speakers all have gatekeepers so make sure you have a plan for these as well.
Category 2: The A-List
These are people at the top of their game that you feel you have a realistic chance of landing. They're seen as industry experts, have a large following, and are passionate about the topic of your summit.
Category 3: Sure Wins
These are the ones you can rely on to say 'yes' to speaking at your summit. Normally these are people you've worked with in the past, or you have a strong connection to. These speakers are the ones who are more likely to be enthusiastic about your value proposition.
How do you know which influencers are a good fit?
Here's a checklist I like to use:
Firstly, look at the type of people they are attracting. Is their audience a good fit for the topic of your summit?
Secondly, how large is their audience? It's not all about the largest audience, but you do want them to have some reach.
Thirdly, how engaged are they? Do they comment on articles? Does the influencer generate discussion on Twitter?
Fourthly, do they have similar values to you?
Step 6: Potential Partners
A quick win for maximum reach is to partner up with people, and brands in your niche that are not direct competitors.
Setting up a virtual summit is a lot of work. By partnering with other brands, you can leverage their sales & online distribution network for added reach.
To find a list of potential partners, start by putting together a list of all your suppliers & tools. These are the people that will benefit from you running a successful online summit.
When trying to identify potential partners, ask yourself, which brands and companies will earn money if we organize a successful virtual summit?
This will give you a good starting list to expand from.
PRO TIP: Find the partner that is the lowest hanging fruit, and land them first. It will be a big psychological win and will make it much easier to convince other partners when you start the promotion.
You can tell any future partners that company X has already booked and that they should also join — nothing like a bit of peer pressure to get them to take action.

Step 7: Speaker Outreach
At this point, you should have four lists.
Dream List
A-List
Sure Wins
Partner List
Depending on the goals that you previously set, you'll need to work out how many of these speakers you'll need to land to stand a chance of achieving your goals.
Part 1: Landing a Brand Headliner & Potential Partner
When planning your outreach, you'll want to achieve two things quickly.
Firstly, land a dream list speaker or brand headliner – somebody who you can use to leverage their brand to get other speakers to agree.
For example when you do your outreach, and you can say, "Hey, Michelle Obama is speaking at this virtual summit, and I'd love you also to join" it will get far more positive responses than a cold email that goes along the lines of "Hey, can you give me 30 minutes of your time to speak at an online summit."
This is why it's vital you get a brand headliner as soon as possible.
Secondly, you'll want to land a partnership with a strong brand that can bring a big audience, as well as brand recognition. Your cold outreach email could now go from "Hey, Michelle Obama is speaking at this virtual summit, to "Hey, Michelle Obama is speaking at this virtual summit, and our main brand partner Google, would love you too as well…", will get a significantly higher response rate.
Part 2: Leveraging Existing Networks
Identify any people in your network that are connected with possible speakers or potential partners. A warm introduction is far more effective than a cold connection.
These quick wins can make all the difference between success, and failure.
What you want to do is identify those individuals you know who might help you out. Do your research, and see who they are connected with that you would like to speak at your summit.
Then send them an email with a pre-written template they could use.
Something along the lines of:
"Hey, could you help me out with a quick email to the people on this list, to see if we can get them interested for a 30-minute interview.
[INSERT NAMES]
I've written a quick pitch for you to use below:
[INSERT PITCH]"
This is a tried, and tested technique we've used to get all of our virtual summits moving forward.
PRO TIP: If you need to, you can incentivize them for additional results.
Part 3: Cold Outreach
Ideally, you should have started building authentic relationships before you need them, but at some point, you're going to need to connect with people you don't know. You're effectively reaching out to them out of the blue, so you'll want to be extremely cautious.
Before you even contact these people, you're going to need to find their email addresses. To do that, use either Hunter.io or FindThatLead. They will help you find the correct email address.
Another tactic is to phone or email the company and ask for the relevant person's email address.
Before you send any emails, make sure you check that their email address is the correct one. You can use the Hunter email verifier to do that. If you're sending emails to old addresses that bounce, Google and other mail providers might lower the reputation of your domain, resulting in more of your emails going into spam folders.
Once you're sure you've got their correct email address, you're going to need to construct your email carefully. We recommend keeping it short, to the point, and clearly define the value proposition.
Your cold email should answer "What's in it for them?" within 5 seconds of them reading it.
What works well is to make sure that you've personalized the email with a compliment. Maybe you've read their book or read a blog post they've written. Reference it, and offer a compliment.
Influencers receive a lot of cold offers, and you need to do something to stand out from the crowd.
Another good tactic is to think where you can add value to them before reaching out. Maybe leave a comment on their blog. Share a tweet or social media post of theirs, and tag them.
PRO TIP: If you want to impress and get a response we'd suggest sending a customized video using Dubb.
Remember that many people don't respond to emails the first time around. The secret to success here is sending a follow-up email every 3 to 5 days until you get a response.
A fantastic tool to automate this is Mailshake. What it does is schedule emails to be sent, and if a response is received, it stops sending them.
When you're reaching out to speakers, avoid asking them to promote your summit upfront, and introduce the idea later. You want to build a relationship with them that can benefit you both long into the future.
So when introducing the idea of promoting the summit, get creative, and always ask yourself what's in it for them to make sure it's a win-win. Be prepared that some might require an exchange or payment to promote your summit to their following.

Step 8: Recording Interviews
We've all heard the saying "Strike while the iron's hot," and it's never been more accurate than when locking down speakers for an online summit.
As soon as someone has agreed to be involved, you should get the interview recorded. The only caveat is that you allow them some time to prepare for your questions.
Once they've agreed to do an interview send them a Calendly link to book a 30-minute time slot. Once they've confirmed the booking, send them a quick email thanking them, and let them know an outline of the questions you're likely to ask.
The reason for this is that it gives your guest time to prepare and think about what they want to say. It means they'll add more value, and the more value they add, the higher the conversion rate for your virtual summit.
How To Prepare For A Summit Interview
Before you jump on a call with the speaker to interview them, you'll want to know a little more about the speaker. This will help you relax, and ask some pertinent questions, and ensure that the conversation flows smoothly.
Step 1. Check out their website. Have a look at their homepage, read their about page, and learn more about what they do. You'll quickly discover the type of jargon they use and areas of interest or passion.
Step 2. Check out their social media profiles & activity. See what they've recently commented on and shared. This will help you ask interview questions that flow and sound natural.
Finally, make sure that you ask the set of prepared questions that you sent them.
Great Interview Questions For Your Speakers
These are some of the best interview questions we've found to get the ball rolling.
What does your daily schedule look like?
What (if anything) has changed in the last few months with XYZ?
What do you feel is the biggest hurdle you faced at XYZ?
What's the most important (or interesting) thing that happened at XYZ?
Do you know anybody who's getting it right regarding XYZ?
Does anyone stick out in your mind as being particularly impressive regarding XYZ?
What's the best investment you've ever made regarding XYZ?
If you could start over, what would you change about XYZ?
What's the ONE tip you could give for XYZ?
Remember to apply this to your specific niche, and topic. These are open-ended questions that should help you keep the conversation flowing.
If your interview is 30 minutes, remember to allocate 5 minutes to the introduction & outro, leaving you with 25 minutes of talk time.
Editing the Interview
Once you've finished the interview, your jobs not done yet.
While the interviews you see on the internet look simple, there's a lot of polishing that's happened in the background. Sections have been cut; background sounds are removed, transitions added, intros & outros inserted, and all other kinds of video editing wizardry.
We recommend, rather than learning this yourself, to hire a professional. You can find a reliable, and affordable provider on Upwork who will be able to take your 'raw' videos, and polish them up.
Before you send them the video to edit, we suggest that you re-watch the interview, and make notes about the changes you'd like to see. You can tell them what sections to remove, or even areas to focus on.
Once you've got the videos back from the editor, you'll need to review that they're perfect.
PRO TIP: Keep your video intros & outros consistent. It creates a professional look, and feel, and enhances the value of them.
Step 9: Building Your Summit Website
If the goal of an online summit is to generate as many leads as possible, it makes sense to focus on reducing friction for website visitors.
A vital part of this is the look, and feel, as well as the functionality of the website.
A consideration to keep in mind is your timescale. If you're the one doing all the outreach, organizing, and building of the entire funnel, it's important that you allocate sufficient time to website creation and testing.
Before you begin the creation of the website and the funnel, consider asking these six questions:
Do we have the technical skills to build the site and funnel ourselves?
Do we have the time to build it ourselves?
Who will write all the content for the website?
Who will write all the content for the emails?
Do we have the budget to hire help for building the website?
Who will create the graphics for the website, and social media?
The answers to these questions will help you decide what you can do in-house, and what you will need to outsource. If it is your first time using the various pieces of software or building a virtual summit infrastructure, you will need to allow sufficient time to learn the ropes, as well as add in a buffer for unexpected delays.
The 9 Key Elements Of Your Virtual Summit Landing Page (Or Homepage)
This is the most important page. It's your first interaction people will have with your online conference.
This is where your prospects can sign up for the summit, learn more about it, see who's speaking, and ultimately decide if they're interested in it or not.
If you're driving traffic to this page, you want to ensure that it converts at the highest possible rate. Make sure this page is the best it can be.
Let's delve into some critical elements that you should have on this page.
Headline – Above the fold (that's the top part of the page) make sure that you have a strong headline that focuses on the benefits of attending the online conference. It needs to be concise, stand out, and tell people what they will get.
Feature Image – It should have a sharp image that creates familiarity, and trust. We like to use an image featuring headshots of the most well-known speakers. You want a cold website visitor to recognize the speakers immediately and keep reading. Next, to this hero image, you can add a short paragraph reiterating what the summit is about and the benefits of attending. The goal of this text is to make the event sound more credible.
Call to Action (CTA) – Above the fold, you want a clear call to action (CTA) that lets visitors sign up to the summit online. This should be connected to your email auto-responder so that they can receive a sequence of trust building automated messages. This CTA must be above the fold, and easily visible.
Social Proof & Testimonials – You also want to add some social proof & testimonials; these should be included next to the CTA. Testimonials act as a replacement for an online referral and can have a significant effect on the sign-up rates. When choosing which testimonials to place here, find the ones that address various pain points, and how your offering has solved them.
Brand Recognition – You want to create a 'Featured In' brand recognition block just below the call to action. This is a section where you showcase as many well-known brand logos as possible. The purpose of this is to create brand familiarity and build trust. You want to include at least 5 logos here. The more you have, the more credible, and larger the online summit will appear.
Content Demo – Create a content demo. You want to literally 'show' people what they get access to when they sign up. You want people to 'see' the product and have a visual representation of the content available. There are a few ways of achieving this. You can create a quick 60-second video demo from an interview that they can play, or you can create a mockup image using Photoshop.
Detailed Features and Benefits List – You've worked hard to get people to your landing page, and some of them are hesitant to hand over their email address. They're busy people and want to know precisely what's in it for them. To help these people over the line, create a list of 20 benefits of attending your summit, and list them. Go into as much detail as you can. Please be careful here as it's easy to list topics and features but, from our testing, we've found that listing features in the form of benefits convert better.
The Speakers List – One of the goals of your online conference is to be associated with the top people in your industry, so it makes sense to get as much mileage out of this as possible. After all, people will attend your virtual summit based on who's speaking. To achieve this you should create an extensive section on your landing page that lists each speaker, and why they're so amazing that people should listen to them.
A Final Call to Action – If someone has read all the way to the bottom of the page, they're ready to decide to sign up or not. Make it as easy as possible for them by including a call to action at the end of the page
Options For Your Thank You Page
If your landing page has done its job well, you'll have a new email subscriber. Rather than sending them away, direct them to a thank you page, and use this opportunity to build trust. They're still almost a cold visitor, and you want to nurture them and get them excited.
Remember that just because they've signed up for the summit, it doesn't mean they'll attend. After all, they've only given you an email address. You still need to create anticipation, so they return and watch the talks.
On this thank you page, you can re-iterate the launch date as well as give them a sneak preview to build anticipation. Make sure that if you show them a sneak preview that it's one of the best you've recorded. This will encourage more people to attend your summit after signing up.
You can also use this opportunity to ask people to share the summit with friends. Make it easy for people to share by giving them links they can click to share across social media and email.
One of my secrets here is to not just ask these to share, but give them an incentive to share. Reward people for any referrals they make. We have a whole Virtual Summit Referral Funnel that we share with our students that results in an increase in registrations to your summit by 17%.
Finally, you should make space to effectively upgrade people into the All Access Pass and sell them on the benefits of joining your private community.
A/B Testing Your Virtual Summit Funnel
In step 3 we did a walkthrough of the tools that we use when we host an online summit and touched on the art of a/b testing. When you're building your website and developing content, this is a key area to keep in mind.
We can't overemphasize the importance of split testing and conversion optimization. Your online conference is a digital asset that can be optimized and refined to increase its effectiveness.
Ultimately, whatever you invest in conversion optimization should pay for itself five times over. Remember that with a few tweaks you might be able to increase your signups by 10%. This improvement will apply to each, and every visitor you send, so the effect is compounded.
To understand the power of proper conversion optimization, let's go back to our goal setting step where we looked at how many email subscribers you wanted to attract.
Assuming your speakers have a combined list of 500,000 email subscribers, and 1% click through to your landing page, that means you're getting 5,000 visits to your landing page from their email sends.
If your landing page converts traffic to subscribers at 50% that would generate you, 2,500 new subscribers, with a bit of conversion optimization, you might be able to get this to 70% which means you could be getting 3,500 subscribers.
That doesn't sound like a massive difference, but it compounds quickly!
If your goal is to generate 25,000 new email opt-ins. Using your old page, you'd need your partners to have a combined list of 5 million emails.
However, using your new page, you'd only need them to have a list of 3.5 million emails. That's 1.5 million less! This means you don't need as many promotional partners which will save you a ton of time.

Step 10: Gaining Sponsors For Your Summit
The key question that I get asked a lot is how to gain sponsors for a virtual summit. The basic answer is you have to begin by asking them!
But I don't mean to be flippant. You want your summit to be successful. You also want your summit to turn a profit, and there are a few ways you can make money from your summit.
The first, obvious choice would be selling tickets, just as you might for a physical conference. Secondly, you can make money from affiliates. You can also make money from sponsorships.
Having sponsors to your event is not only a way of making money, but can add some prestige to your event. Often it's a win-win for both companies and the organizer in terms of exposure since companies want to be seen as leaders in their niche, and that means getting their name seen and mentioned in the right places, to the right target audience.
As an organiser, you also want to get your virtual summit associated with these brands and key players in the market. It can give your event a legitimacy and exposure that it otherwise wouldn't have without that connection to an established brand that is willing to be linked to your virtual summit.
It makes sense that you target sponsors that operate in the same niche as the topics covered in your virtual summit, and then you might be surprised how easily they'll agree to it. Many big-name brands have marketing budgets just for sponsoring events, and many marketing managers consider it a greater investment than advertising.
Rather than trying to attract new customers in targeted ads that may be seen once or ignored, now the brand gets exposure for the duration of your summit, as well as the lead up. As far as they see it, you're doing all the leg work putting the event together and bringing in all the speakers, as well as selling the tickets, now they can get their name mentioned to a captive audience, and they'll gladly pay you for it.
But the key question remains, how do you approach and gain sponsors for your virtual summit?
How To Get Sponsors
The first step would be identifying likely sponsors in your marketplace and getting in touch with them. Perhaps they have sponsored events before, or perhaps they could be pioneers in their field by being the first to sponsor your virtual summit, but the first thing is identifying some likely sponsors who may consider joining up with you.
Gather a list of potential sponsors with all the contact details, and then get ready to sell your summit to them. They'll want to know what the summit is about, how it will benefit the attendees, as well as how it will benefit them being associated with it.
At this stage, it will help if you have some keynote speakers lined up, industry experts. It's also great if you can give them an idea of how many people have registered to join your summit, or are at least likely to. You don't need to have sold any tickets or opened the registration before approaching sponsors, but it's a good idea to be able to let them know that your summit is going to be something they definitely want to climb on board with.
Provide them the USP of your summit – why is it different? What makes it stand out from other events? Why will hordes of people be jumping at the chance to sign up for your virtual summit, and crucially, why should they want to?
There will be plenty of companies out there that want to push their brand out and gain exposure, and do that in place of their competition. So if you don't get accepted by your first choice, move onto their competitors and ask them.
There could be several reasons why a company may not choose to sponsor you this time, and it could be something as simple as their budget being depleted until next year. So don't give up, go and ask the next brand, and you contacting them may be just what they've been waiting for to boost their sales.
Benefits of Sponsorship
Bringing sponsors on board adds to the credibility of your virtual summit. When you secure your first sponsor, don't stop there, go and ask the next sponsor if they'll join you, this time armed with the information that you already have a sponsor and ask if they'd like to join too.
There is something else you can ask your sponsors to do, once you bring them onboard. You could ask them to provide some prizes or giveaways during the event. This is really useful to you as an organizer because you can create a buzz around some of the giveaways.
Sponsors very often like giving their branded merchandise away, and whereas you may not have any, or it will cost you to give it away, they are often pleased to give away some sample products or other gifts.
Having products to give away also pulls in greater viewership for the live event, as people are more likely to watch specific segments if there is a chance they can get a free prize afterward. You can schedule this into the advertisement and scheduling of your event by announcing the giveaways in the lead up to the event.
There are many benefits from gaining sponsors to your virtual summit, so it's not something you should shy away from. Brands like to get their name mentioned to captive audiences and are often happy to give away free products or a voucher as part of their overall sales strategy.
Aside from the added bonus of gaining free prizes to provide your participants during the summit, the benefits of receiving a sponsor are two-fold. They'll pay you money just to have their name associated with your summit, but you could also gain soft power by bringing in a brand everyone can identify with, which will help you sell tickets as it adds credibility to your event.
Having sponsors backing you may also encourage bigger name speakers to join in as presenters too, once they know that some industry leaders are willing to back you. Although which way around you do it – either getting the speakers or the sponsors first – will be down to you, and it's likely to be a balancing act.
But all this being said, gaining sponsors is a crucial element of organizing your virtual summit. But don't be too disheartened if you don't get the sponsors you want the first time. Just keep plugging away at it and ask them again next time.
Bear in mind that sponsors benefit from getting their name mentioned in an arena that reaches their target audience as much as you benefit from having your event linked to their brand. This makes it a win-win for both parties and on this basis it's definitely worth trying to secure some sponsors for your virtual summit.
Further Benefits of Sponsorships
Once you get your first summit under your belt, you may have sponsors approaching you to sponsor the next virtual summit you organize, so it is a positive multiplier effect. Once you've proven your summits can be a success, you might have sponsors knocking on your door, then you get a choice, maybe in a position to politely decline some offers.
There are also some other ways that landing sponsors can benefit you, as they can help you sell tickets directly, thus vastly increasing your reach and driving up sales.
Not only can sponsors help you gain traction for your event and encourage potential participants to go ahead and register through your sales pages, but they can actually sell tickets on your behalf. You can offer them a commission on each sale, and then they will start advertising your event in places you might not have had access to previously.
This will significantly reduce the cost of your own advertising, as your sponsors will already have their own leads and will promote the event to their customers. Offering your sponsors a commission is an intelligent way to multiply your attendees. It's a great way to incentivize leaders in your marketplace to boost the popularity of your virtual summit.
Using your sponsors in this way can lead to a dramatic increase in people registering for your event. Now I've listed four good reasons to get a sponsor on board – it provides you some income (or you might negotiate that you don't want it, depending on the terms of your arrangement), it provides your summit added credibility, you can ask your sponsors to provide prizes and giveaways (which encourages increased participation), and finally, you can even get sponsors to advertise on your behalf!
These four reasons should be enough to motivate you to go ahead and start seeking sponsors for your event. As I started off this section by saying, it's a simple matter of contacting some likely sponsors and agreeing to it, but I know that things aren't necessarily as easy as that.
It will take time and patience to get your initial sponsors, but as you gain more experience, you should find it becomes an easier task, particularly if you have proved to run successful events, in which case, sponsors may start contacting you.
How you manage getting sponsors will vary, such as whether you choose to approach them before registration starts, or you contact them later after your event has gained traction, but this will depend really on how you are setting up and approaching your virtual summit.
Certainly, getting speakers lined up and their topics, with a clear structure of how the summit is going to play out will help, but otherwise there is nothing to stop you approaching sponsors as early as possible, particularly if they could help boost sales in the run-up. No need to wait until it's too late – get sponsors from the get-go.
Step 11: Promoting Your Summit
You've been working night, and day to get your virtual summit ready. Your copy is spot on, your videos perfectly edited, your emails are primed, and ready to be sent.
You're 100% happy that your summit content is as close to perfect as it's ever going to be.
You're exhausted from all the late nights to get it to this point.
Now the real work begins.
You've got to get as many people as possible to attend this summit.
PRO TIP: A successful online summit focuses on two stages. Stage one for the creation, and setup, and stage two for the promotion of it. You should be spending 80% of your time on stage two.
When planning your promotional campaign, start with the big wins first. You want to get as much traction as possible, as quickly as possible.
For most people, this will come from their own audience as well as speaker & partner audiences.
Speaker & Partner Email Promotions
It sounds easy to 'just promote' an online summit. However, there's a lot of preparation that needs to be done beforehand. If you're asking your speakers, and partners to promote the summit to their audiences you want to make it easy for them by removing as many obstacles as possible.
These are busy people, and the last thing you want is to miss out on 100,000 people hearing about your event because you didn't have the email script ready for them to send.
You also want to make sure that the email script they do send has been split tested beforehand. Split testing email headlines can take an email with an open rate of 10%, and boost it to 40%.
Let's put that into perspective. If a speaker emails the first version (the unoptimized one) to their 100,000 person list, and gets a 7% open rate, that means that 7,000 people might click on your link that takes them to your landing page. Ninety-three thousand people will never do anything as they don't even open the email.
If you can split test beforehand, and make sure your email headline is the best it can be, a 40% open rate will mean that 40,000 people see your information, and might click through to learn more. The only way to get a 40% open rate is by split testing your headlines to find the perfect one.
This is the difference between success & failure for many virtual summits.
When preparing these emails for your partners make sure that you have a custom script for each speaker and partner. Remember that you want to make it as easy as possible for them to broadcast your summit.
Another thing that we've found incredibly useful is asking or incentivizing partners to promote your summit over 2 or 3 emails. Most people's inboxes are jam-packed, and a single email is often missed.
It is incredibly useful asking or incentivizing partners to promote your summit over 2 or 3 emails.Click To Tweet
If they've already agreed to send one email, they're almost always open to sending a second or third email, as long as they're spaced out enough.
Speaker & Partner Social Promotions
Another extremely effective method for promoting your online summit is to ask your speaker, and partners to share it on social media.
Another extremely effective method for promoting your virtual summit is to ask your speaker, and partners to share it on social media.Click To Tweet
Many of the industry leaders have a massive social following, and this can be a considerable driver of leads for your summit.
To make it as easy as possible for your speakers make sure that you've prepared any graphics in the correct sizes for their various social media platforms. Each social media platform has different image dimensions and requirements, and you want to get as much reach as possible.
PRO TIP: Use Canva to create engaging, and eye-catching images for social media. Canva has all the required sizes in templates which makes it easy to use.
You should ask the speakers to share the event on each social channel specifically. Industry leaders have a reach on each of the social media channels, and you want exposure to as much of it as possible.