Instagram influencer marketing is one of the most powerful marketing campaigns to build brand awareness and drive sales for your business. You could reach an untapped audience for your brand through Influencers who have their raving fans' followers. Their followers will tend to follow and try the product the Influencer endorse on their Instagram account.
Unfortunately, according to Econsultancy's study, 73% greatest challenges every business owner and marketer facing is finding the right influencers for their business. Hence, having the skill set to find and audit the right Influencer in-house will be important to increase the success rate of the Influencer marketing campaign to boost their brand awareness and sales.
This article will elaborate on how to find the right Instagram influencers for your business accurately. So, after you read this article, you will have a better idea of how to find the right Instagram influencers for your business and audit them by yourself.
If you can find the influencer correctly for your business, you can minimize the risk of losing money to pay the wrong Instagram influencer, potentially harming your brand also.
How to Find The Right Instagram Influencers
The first step you need to do is how to find the right Instagram influencers for your business. It's not difficult to find Instagram Influencer that can suit your brand. Here we will break down the exact strategies I used to find Instagram influencers.
Niche Instagram Hashtags
The first step to finding Instagram influencers is through hashtags search related to your niche. For example, if you're selling baby products and looking for mom Instagram influencers who have kids.
You can start by using hashtags related to the baby, such as #babygear to find an Instagram post belonging to moms who have kids. For example, here are the results from searching #babygear hashtags on the Instagram search bar.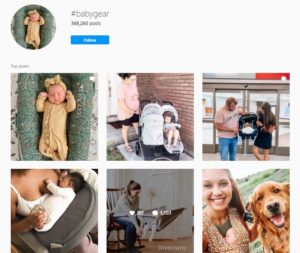 Based on the top posts shown, we can see that several mom Influencers' posts are shown on the top post which using baby gear hashtags. So those are the Influencers that can suit your brand since you have filtered it specifically through niche hashtags.
If you are having difficulty finding hashtags ideas for your niche. You can use niche hashtags generators such as allhashtags, it's free to use. Allhashtags can generate many hashtags ideas related to your niche. Then, you can find Instagram influencer top posts on your niche based on the hashtags you have found.
Competitor Instagram Account
The second method will be stalking your competitor's Instagram account by checking on the Instagram-tagged photo. You will find some influencers who were doing a shoutout and tagged your competitor accounts. Here is an example of tagged photos on Gymshark, which sells fitness apparel. You can spy on the Instagram Influencer used by Gymshark to promote their brand.
This way, you can spy on potential Instagram influencers, which your competitor uses to promote their brands. If you see your competitor keep using the same influencer to shout out their brand more than once. It's a sign that the influencer does the job really well, which brings profitable campaigns for their brand.
Instagram Explore Page
Not many people know about this method. You can find targeted Instagram influencers for your niche through Instagram explore page. In order to make your Instagram explore page results showing you an Instagram influencer on your niche. You will need to engage with several Influencers in your niche, such as follow, like, comment, and share.
Those actions will tell the Instagram algorithm that you like to follow and engage with those specific Influencers in your niche. Hence, Instagram will recommend related influencers on your niche on your Instagram explore page, which means you can find untapped Instagram influencers.
Google Search
The other way to find an Instagram influencer is through Google search results. For example, you can type [Niche] + Instagram influencer on the Google search bar. So, for example, if you need to find travel Instagram influencers, here is what you need to type on the Google search bar.
Google will show you several recommendations of Instagram influencer list on your niche based on other people's research. This is the benefit of using Google search to find Instagram influencers. We will leverage it using other people's research.
From the list of recommendations you found, you can find other similar Instagram influencers' accounts by using the Instagram suggestion blue arrow button on the Influencer profile page, as seen from the picture below. Hence, you will have more new Instagram influencer lists that you can approach.
Bonus Tips: Find Untapped Instagram influencer
If you can find untapped Instagram influencers who have never done shoutout promotions before, it will be super profitable for you to work with that kind of Influencers. It's because their audience is still fresh and hasn't been hit with ads content.
Although finding this kind of influencer will be very difficult for you, I just want to give you an insight. If you can find this untapped Instagram influencer, it will be great for your influencer marketing campaign.
Unfortunately, most influencers actively do shoutout promotions on their Instagram posts or even on their stories, making their audience become ad fatigued. This will make the ad's content less engaged unless If the Influencers can promote the product naturally without being salesy.
Okay, I have explained all the strategies you need to find the Instagram Influencer for your niche. Please kindly keep in mind having a list of Instagram influencers doesn't mean your job is done. The next step you need to do is audit each Instagram influencer.
How to Audit Instagram Influencer Quality
After having several lists of Instagram influencers in your niche, you will need to audit them first before finally approaching them. You want to ensure that the influencers have legitimate followers who have real engagement with their Instagram posts and stories.
Let's deep dive into several metrics that we can use to audit the Instagram influencer quality.
Checking Average Engagement Rate for Influencer
This is the first step validation you can do to audit every Instagram Influencer list you have found. The engagement rate will give you information on how active the followers engaged with the Influencers. Regarding the engagement rate benchmark number, it will be different depending on the follower's size.
Here is the benchmark number for engagement rate for different follower size accounts according to Phlanx as seen from the picture below. The larger the follower size, the smaller the engagement rate.
When you have more than 1M followers, a 1.97% engagement rate is already considered good enough. This is just a benchmark number for you.
So, the next question is how we can calculate the average engagement rate for the Instagram influencer? It's simple, we will use free websites such as Phlanx to calculate the engagement rate. Simply enter the Instagram username, then you will get the engagement rate number.
Does knowing the engagement rate will give you a final decision on whether the influencer considers good? The answer is NOT enough by only relying on the engagement rate! You will need further validation to check whether the influencer has quality followers
Nowadays, engagement rate numbers can be manipulated by the influencer. They can buy fake likes and comments to make their engagement rate number look great to attract brand or business owners to invest in them.
Checking Instagram Profile Liker and Commenter
If you find an Instagram influencer post having so many likes and comments, don't think they can't fake it. The simple basic check you can do is to audit the liker and commenter profile. Whether they're a legit Instagram account or not. You can stalk on their Instagram profile to validate whether they are real or fake followers. Here are several things you can check:
Does the Instagram profile don't have a profile picture?
Does the Instagram profile set to private?
Does the Instagram profile has a low number of followers?
Does the Instagram profile only has nine Instagram posts?
If the answer is YES, in one of those questions above, you need to be careful. Normally bot Instagram account only has nine Instagram posts. It's not normal for a real person on Instagram to only has nine posts on their account. So if you see the Instagram profile, which only has nine Instagram posts, it can indicate a bot Instagram account even if it has a profile picture and small followers.
If you find the liker and commenter Instagram accounts with the above criteria, it's a sign that the influencer buys fake likes and comments.
Checking the Coherency Like and Comment
It will be strange if you see an Instagram post with so many likes (2000 likes) but zero comments under their post. It will indicate that the influencer may buy like from bot accounts from the social media panel.
As the previous section explains, you can double-check the liker Instagram profile, whether their accounts only have nine Instagram posts only, set to private, no profile picture, or small followers. If you often see one of the criteria on the Instagram profile liker, we can say it was fake.
Checking Video View Counts vs like Counts
Ideally, the video views counts will be larger than the average likes post of the influencer. Because not all influencer followers will like the video post, but at least the followers can see the video. Hence, logically, the video view counts will always be higher than like counts.
If you see the video view counts are less than like counts, it will indicate the influencer has bot followers. I know in some cases, the influencer can buy bot likes and video views. Hence we will need another more verification method to confirm it.
Let's summarize it, if the influencer has video view counts higher than like counts, it means the Influencers have real followers on their Instagram account. Please keep in mind that not all influencers have a great willingness to manipulate all their vanity metrics such as likes, comments, video views, and followers.
So, simple basic audits still work really well, just go through each metric that I have elaborated to validate the quality of the influencer's followers.
Checking Instagram Followers Trend
Checking Instagram influencer follower trends can indicate whether the influencer is still getting active followers daily. How do you check the follower trends for free? You can use the free website Social Blade, which will provide the follower's trend on a daily basis.
Social blade provides several data analytics to help you audit the influencer, such as followers trends and media uploads. You don't want to work with Influencers who have decreasing followers, sideways trends, or even spike jump on their followers.
If you see a sudden jump spike in the number of followers on the influencer, it will signify that the influencer may buy fake followers. In this case, we need to double-check the quality of their followers to ensure whether it is real or fake. I will explain later on how to check the quality of the followers.
Basically, the best ideal followers trend is the uptrend chart which means the followers grow organically without any artificial action. Here is an example of the @therock follower's trend from Social blade, which shows an uptrend chart.
Checking Instagram Followers Quality
This is the most important validation check. I could say this validation will give you information on whether the influencers have real followers or not, regardless of the engagement rate.  If most of the followers are bots (fake followers), it will be harmful to your brand since you have invested in the wrong Instagram influencers which don't have real audiences.
The main question is how you can check the Instagram follower's quality? Currently, the best free tool you can use to check the follower's quality is using fake followers checker from the Influencer marketing hub. This free fake follower checker will help you give information on the number of active quality audiences from the Influencer followers.
The fake follower's checker will calculate the quality score of the followers from 0-100. Let's see an example if we audit top American actor Dwayne Johson (The Rock)  with Instagram username @therock.
Based on the results above, we can see that @therock has 77 active audiences out of 100 audiences who actively engaged with him. This is a good score, as we can see from the green report. Even though the engagement rate is quite low, which is 0.41%, it's normal considering @therock having a super huge follower size (250M followers).
Posting Frequency
The last step you need to check is whether the influencer posts regularly every day. You want to ensure the influencer is actively posting every day. If you see the influencers don't post regularly every day (inconsistent). It may be possible that they delete their bad-performing post to adjust their engagement rate.
If the influencer keeps posting every day. It means they never worried too much about their engagement rate because they have active followers who keep interacting with their posts, such as likes, comments, and reposts. Therefore, influencers who keep posting every day consistently can be considered good.
Based on all those metrics above, you can conclude whether the Instagram Influencer is worth investing in for shoutout or endorsement. This way, you can avoid choosing the wrong Instagram influencer, which will harm your brands and losing money without getting any results for your business.
P.S: If you don't have time or are unsure how to find and audit Instagram influencers for your business. I can help you to find the right Instagram influencer for your business, whether you're a brand owner, dropshipper, digital publisher, affiliate marketer, blogger, or selling SaaS (Software As A Service). You can hire me to do the job on Fiverr. Then I have a bonus Instagram strategies guide for you if you're interested in working with me.
Last Validation: Influencer Instagram Business Insight
After you have analyzed each Instagram Influencer, you will contact them to ask for their shoutout rate. While negotiating their shoutout rate, you will need to request Influencer Instagram business insight from their post, whether in record videos or screenshots.
This method can help you give more information about the demography of the audiences, such as age, gender, and locations. This is very important, especially if your brand only targets women audiences. You will need to ensure that majority of the audience is female.
How About an Affiliate Partnership?
When you approach an influencer for an affiliate partnership, you don't need to audit the influencers first when you have collected the influencer list. The goal here is to send email or DM to the influencer as much as you can to get their YES answers. If you try to audit the Influencers first before approaching them, it will waste your time.
Normally, big influencers will not accept affiliate partnerships unless you're a big brand. Hence, I highly recommend you approach tiny influencers (< 10K Followers) for an affiliate partnership. This is because they're more likely open for an affiliate partnership.
In my case, I can collaborate with an artist on Instagram with huge followers above 10K through affiliate partnership. The artist is someone who creates 2D artwork on their Instagram account. They have raving fans followers who love their artwork. So, I made an affiliate partnership with them to sell print-on-demand products.
The artist will promote the print on demand products using their artwork to their audience. My job here is to provide Shopify store as shopping infrastructure and print on demand fulfillment by using Printful. This is an untapped free method to drive organic sales. Here you can read the detailed case study.
In Conclusion
Finding the right Instagram Influencer will require you to outsource the Influencers and audit the quality of their followers. You can't only rely on one metric, such as engagement rate numbers since the influencer can manipulate it. Further validation methods need to perform such as auditing the follower's trend, posting frequency, and followers quality.
I hope my article about how to find the right Instagram influencers accurately can be useful for you. Let me know If you have questions, don't hesitate to drop a comment below. Thank you.