Top 10 TikTok Trends in Malaysia in 2021
Posted on January 25, 2021Label:RecommendedKOL MarketingI'm a Brand
Hi SushiVid members,
Even though we're only just entering 2021, in our previous blog post, through careful investigation, we had some predictions. In Malaysia in 2021, the needs and trends of influencer marketing are kicking off. Come to our blog to read this year's compelling content. We discuss mass posting, live streaming, and more.
In this blog, we would like to update you on the 2021 Malaysian TikTok demand and trends. TikTok was born in recent years.according toGlobal Times, With a population of nearly 630 million in Southeast Asia, TikTok has almost 200 million users. TikTok launched in 2016, but with 500 million monthly active users, it is no less than Instagram. Instagram, with more than 1 billion monthly active users, is in sixth place. It only took TikTok four years to get to the point where it doesn't fall behind Instagram. Therefore, we highly recommend brands to start using TikTok for their influencer marketing campaigns.
During the 2020 Movement Control Order in Malaysia, TikTok showed its potential to influence the public. In an instant, it was as if everyone started creating content on TikTok at home. One of the most widely circulated trends is the #NoRush phenomenon. Everyone knows we use the No Rush song for our before and after makeup TikTok videos. Before it evolved into other versions such as pilot version, brother version, even SushiVid also made the following No Rush challenge video belonging to them.
Full video –https://www.instagram.com/tv/B_1ZJaNpUDy/
We forecast and exemplify several trends and demands that Malaysia will face in 2021.
1. TikTok 对 嘴
Mouth-to-mouth isn't limited to songs. With TikTok, you can match any song, movie, news, drama, or any other video on the social media platform. TikTok removes the limitations of Musical.ly. People can use mouth-to-mouth for entertainment. Influencers can now use funny speech to mouth-to-mouth and can also create content in the speech. One of the influencers in our Watsons campaign, Imalraz, has a measly 2,000 TikTok followers, but he got 70,000 TikTok views at the Watsons TikTok campaign.
Full video –https://www.tiktok.com/@imalrazz/video/6844875909300751618?lang=en
In the TikTok video above, Imalraz used a remix of Taylor Swift's song "Trouble" to promote Watsons' buy-one-get-one campaign. That TikTok video got 3,000 likes and didn't use any of the hashtags suggested for you. Don't be afraid to get inspired for your TikTok content. Search for any funny hashtag and reuse it in your content. The great thing about TikTok is that you can tag the original in the voice and it won't cause any copyright disputes.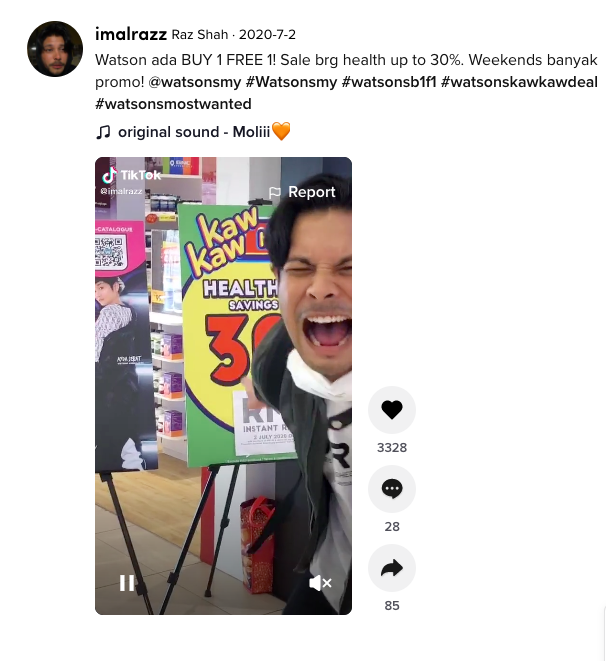 2. TikTok dance
One of the reasons why TikTok has become so popular is because the simple and hilarious dance moves quickly went viral. TikTok offers a movie clip feature that lets the music play in a slower way. This method even ordinary people can do any dance. On the other hand, it provides the opportunity for professional dancers to become influencers. Therefore, most of the internet celebrities in Malaysia who have many fans are usually dancers or dancers.
Mind you, Jason Derulo is the king of TikTok dancers. His publicity team used his dance skills to promote his single, Savage Love. The song has 81 million views on YouTube.
Full video –https://youtu.be/lThkYjK1hJw
That song became so popular because other influencers and stars worked together to increase the popularity of the song.
Some local artists such as SonaOne have also run similar promotions for his debut song Bomba. During the last movement control order, SonaOne released his single Bomba, which gained popularity thanks to the power of some internet celebrities and the imitation dance of stars. The song has 700,000 views on YouTube. The song was quickly reprised by Joe Flizzow's Def Jem Records rapper. Soon, the film broke through 400,000 views.

3. TikTok 迷 因
For those of you who don't understand, according to Wikipedia, a meme is a thought, behavior, or style that is transmitted from person to person in a culture by imitating it, usually to convey the specific phenomenon or meaning the meme represents.
Here is an example of a TikTok meme:
Full video –https://www.youtube.com/watch?v=iShlEkpEB18
This video is classified as a TikTok meme that needs to be funny or relevant to the public. These kinds of TikTok videos will bring your brand to the hearts of the people.
However, don't be too direct that you're selling a product. It might be possible to provide influencers with the inspiration behind the meme, and there are scenarios where your brand or product audience can come in handy. A simple example You find out in class that your period is coming, you are very nervous, but you remember that you have Sophie tampons in your school bag.
This can be sensible and give your product an unobstructed view to the audience.
4. Informational TikTok
TikTok is also a platform for the masses to search for advice, history and other news. UNICEF has over 300,000 followers on TikTok. Some doctors and experts have huge followings on TikTok. Society trusts them to provide accurate information updates and value the knowledge shared by experts.
Dr Harang has over 1.9 million followers for sharing health tips.
Full video –https://www.tiktok.com/@drharang?lang=en
Information is not just serious facts. Since TikTok is a reliable platform to spread the word, brands should ask influencers to use their creativity to create content for the brand or product.
Skincare brand The Ordinary was trending last year because it used several influencers to promote the benefits of using their products. People frantically go to the website to buy, trying to achieve the effect of using it with their favorite influencers.
Informational TikTok content also includes
-1 minute tip TikTok video
-Educational TikTok videos
5. TikTok Challenge
The recommended pages for you are almost always immersed in TikTok challenges such as the #Bestfriend challenge, the #SavageDance challenge, and the #LevelUp challenge.
In last year's No Rush challenge, The SV Group put a skincare brand into the challenge. We asked influencers to create their own No Rush challenge using the brand's skincare products. Those videos got a lot of views!
We strongly recommend joining TikTok to challenge trends and make the most of them. There are endless possibilities for promoting products with TikTok challenges. The point is that the content captures the attention of the audience. Below is an example of a No Rush challenge that a Singapore company did to promote their clothing.
Full video –https://www.youtube.com/watch?v=dSkL06e1WX8
We often see a lot of #Bestfriend challenges on TikTok. Despite the movement control order, people are contacting their friends more frequently than before. We encourage brands to take part in this challenge. An easy way to do this is to sponsor two or more influencers and ask them to complete a #Bestfriend challenge via video call. If you're a clothing brand, you can send your clothing to influencers and ask to wear them on a video call.
Find a timeless TikTok challenge. It's best to choose hashtags that are highly discussed.
6. Spontaneous Perceptual Meridian Response TikTok (ASMR)
Spontaneous perceptual meridian responses rose from YouTube, to Instagram and now to TikTok. People will not reject spontaneous perceptual meridian response videos. It gives viewers a sense of satisfaction and stress relief while watching.
Here are some Spontaneous Perceptual Meridian Response videos that are popular on TikTok.
Full video –https://www.tiktok.com/@asmr/video/6917323730091920641?lang=en
A TikTok video promotes Kat Von D, an American cosmetics company.

Full video –https://www.tiktok.com/@asmr/video/6912830664786054402?lang=en
A TikTok video promotes Yeezy Shoes, an American clothing company.
Full video –https://www.tiktok.com/@asmr/video/6903127980923489537?lang=en
A Blac Chyna TikTok video to promote her products and brand.
To achieve the effect, the visual perception of TikTok videos plays an important role in the spontaneous perceptual meridian response. Viewers will want to see how an influencer or key opinion leader has a voice. This is a great opportunity for brands to showcase their products and captivate audiences visually and audibly.
7. Styling for TikTok
The fashion industry in Malaysia has been quick to use TikTok as a platform to promote their products. From big names like Pomelo and Levi's Malaysia to local brands like Qaysa Official.
Below is some TikTok content from Sleepylllama and AzurvvnSophia.
Full video –https://www.instagram.com/p/CGWcigOAi1K/
Azureen promotion @qaysaofficial
Full video –https://www.instagram.com/p/CIhq6ChArVS/
Azureen promotes Cashback
Full video –https://www.instagram.com/p/CKBfQG0JZib/
Nia promotes Zalora Malaysia
The masses are turning to TikTok for fashion advice. The point is to make your product compelling and to achieve that, you need quality influencers. The SV Group has 17,000 influencers for you to choose from.
8. Cooking TikTok
The movement control order has given positive guidance to the public, that is, cooking at home. On TikTok, recipes are made easier to understand and read. Local TikTok account Masakan Simple has more than 1.4 million followers.

TikTok homepage –https://www.tiktok.com/@masakansimple?lang=en
A once-in-a-lifetime opportunity for the food and beverage industry to rise. With this trend, more and more Internet celebrities are born every day. Connect and sponsor key opinion leaders who use your ingredients for food testing or cooking instruction.
During this lockdown, food visuals are undoubtedly a concoction for the audience. Finding an influencer who can express your product as high-quality food will make a name for itself on TikTok. Don't be stingy with sending influencers clothes, hats, sunglasses, or other wearables to wear while they're cooking or doing food reviews.
9. Heartwarming TikTok
A heartwarming heart-warming video can resonate with the public through a TikTok video shot by an influencer. In this type of TikTok video, you can capture the core values ​​of your company or brand.
In our knowledge, in this blockade situation, we suggest that internet celebrities are recommending health supplements to match the fitness cycle. Influencers can also encourage viewers to stay healthy and safe at home, or pay tribute to those on the front lines who are doing their best during this pandemic.
Here are some touching examples of TikTok mixes.
Full video –https://www.youtube.com/watch?v=udJa7dhxXm0
10. TikTok Ads
Some big companies like Lazada and Watsons have figured out how to boost TikTok ads. An effective strategy to promote your brand to the mass market. This trend will continue as long as we keep doing it with the TikTok platform.
Marketing on TikTokOffers the ability to control costs, real-time monitoring, intelligent audience targeting, and top-rated customer service, according to the brand's website.
Below is a reference tutorial for you by Mike Sherrard.
Full video –https://www.youtube.com/watch?v=ZJrHLSkKHJ0
The conversion rate of TikTok ads is huge because it has 500 million monthly active users. Nonetheless, if you are looking for a local business to provide you with one-stop service at a reasonable price, contact us so that we can help you manage the entire event.
All in all, we know what's going on with TikTok and it's just getting started.If you still want to try to figure out how your brand integrates with TikTok, contact our experts[email protected]。